yadav voters getting away from rjd: lalu yadav se dur ho rahe yadav voter tarapur chunav ke natewzo se ho raha saaf nitish kumar on mission to make lalu yadav a 'pauper'
Highlights
Shocking voting pattern in Tarapur assembly seat
JDU candidate got more votes in Yadav dominated areas
Vaish voters expressed confidence in RJD instead of NDA
Congress candidate got only 6 votes in his own booth
Munger
The figures of the voting pattern in the recently held by-elections in two seats in Bihar are shocking. Especially the voting data of Tarapur assembly seat is testifying that the Yadav community, considered devoted to RJD, has lost faith in Lalu Yadav and his family. The people of Tarapur Vidhan Sabha have given a message to both Lalu Prasad Yadav and Nitish Kumar that the voters whom both the leaders have been following as their own, are now getting disillusioned. The way the people of this area have voted in the by-election, it is understandable that now the public is also avoiding voting in the name of any big leader. Now he is relying more on his thinking and understanding in pressing the button of EVM.
RJD had fielded Arun Kumar from Tarapur. Asarganj is the ancestral village of Arun Kumar. There is a large number of Bania (Vaish) voters here. Bania voters across the country are considered BJP supporters. Before the beginning of the Narendra Modi era, the BJP was called a party of Brahmins and Banias. In Bihar, BJP and JDU are together, despite this, JDU candidate did not get the support of Bania voters in Tarapur by-election.
Bania majority voters' booth

| | | |
| --- | --- | --- |
| booth number | Vote for JDU | vote for rjd |
| 50 | 44 | 458 |
| 51 | 76 | 344 |
| 52 | 103 | 311 |
The number of upper caste, yadav and most backward votes in Kamrai is significant. Here instead of getting votes for RJD candidate, people have put faith in JDU.
Yadav majority voter booth
| | | |
| --- | --- | --- |
| booth number | Vote for JDU | vote for rjd |
| 40 | 261 | 48 |
| 41 | 88 | 291 |
NSHow many votes to whom in the area dominated by the former MLAFormer JDU minister Dr. Mevalal Choudhary and his wife Neeta Choudhary, who were three-time MLAs of Tarapur assembly seat, have been considered to have a good influence in Lakhanpur, Manikpur and Kamargaon. There are total 11 booths in these villages. Out of these, JDU candidate got more votes on six and RJD candidate on five. That is, even in the area dominated by former JDU MLA, RJD was seen giving equal competition. The party canceled the decision of JDU state president Umesh Singh Kushwaha.
Rajput voters also do not trust RJD
Similarly, in the Rajput and Scheduled Caste majority Navgai, the JDU was seen overwhelming the RJD. In three booths here, JDU got 732 votes and RJD got 87 votes. In Yadav-dominated Kathore village, JDU's flair was also visible. RJD got 428 votes and JDU 538 votes in four booths of these two Yadav villages.
Counting for the seventh phase of Bihar Panchayat elections continues, see live results here
Congress candidate got 6 votes in his own booth
The village of Dr. Sameer Kumar Singh, working president of Bihar Pradesh Congress is also in Milki of Tarapur assembly seat. This village is dominated by Rajputs. Here JDU MP Chandreshwar Prasad Chandravanshi and Dr. Alok Suman had spent a lot of time during the campaign. At the same time, RJD had sent Lovely Anand and MLA Chetan Anand for campaigning. Here RJD got 199 votes, JDU got 345 and Congress got 271 votes.
Congress candidate Rajesh Kumar Mishra is a voter of booth number 205. Interestingly, the people of this booth do not have faith in Rajesh Kumar Mishra. Here he got only six votes. At the same time, he got 209 votes from the booth of his village Muluktand.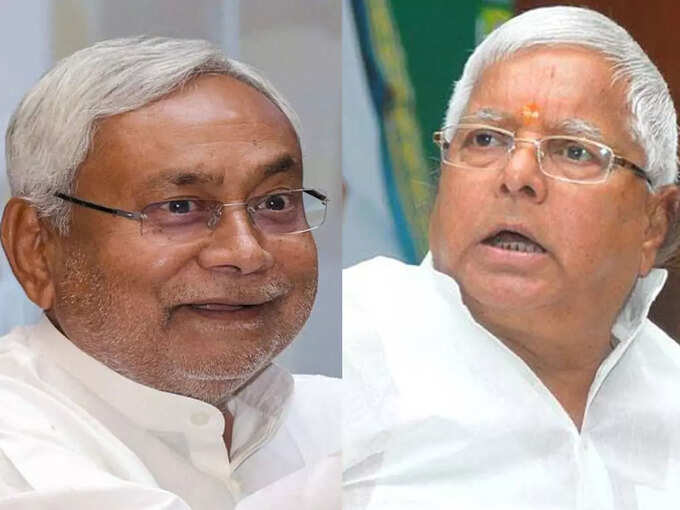 Lalu Yadav and Nitish Kumar.
#yadav #voters #rjd #lalu #yadav #dur #rahe #yadav #voter #tarapur #chunav #natewzo #raha #saaf #nitish #kumar #mission #lalu #yadav #pauper