West Bengal election 2021 result: 2016, 2019 and then 2021: know how to shift Bengal between BJP, TMC and Left-Congress bjp again bjp to tmc
Bengal Election Result Analysis: BJP had a big success in Bengal in the 2019 Lok Sabha elections. He sent his 18 MPs to the Lok Sabha from the state where the party had always been marginalized. At that time, the supporters of the left parties turned to the BJP in large numbers. But, this time the assembly election results are telling a different story. When the BJP made a dent in the Trinamool Congress stronghold in the assembly elections, the Trinamool got success in the areas where the Left and Congress candidates won in the 2016 elections.
Left-Congress became clean on zero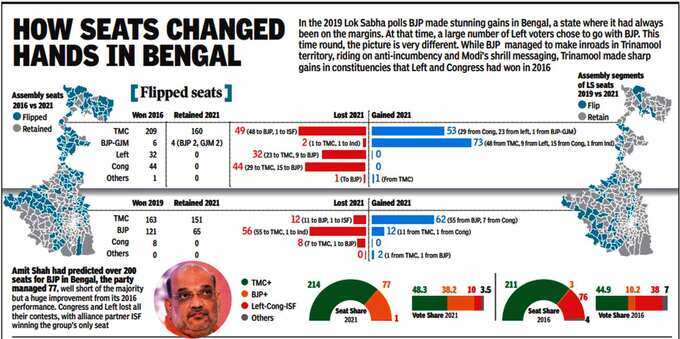 Amit Shah had claimed the BJP to get 200 seats in the Bengal Assembly elections, but the figure was reduced to 77. This is very little in terms of forming a government in the state, but is a far better performance than the 2016 assembly elections. This election proved to be a great disappointment for the Congress and the Left. The account of both of them could not even be opened in Bengal. The victory of a candidate of the Indian Secular Front (ISF) saved the shame of the Left-Congress alliance, otherwise the entire alliance would have been zeroed out.
BJP gets a big lead in North Bengal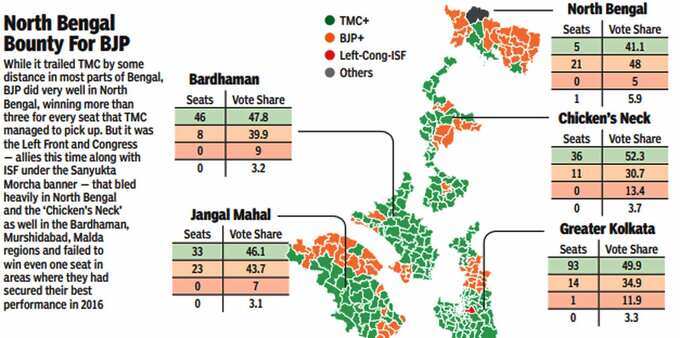 In most areas of Bengal, the BJP had to be defeated by the TMC, but in North Bengal, the BJP won a lot. Here BJP got seats in triple proportion to TMC. But, the united front of Congress, Left and ISF became clear from North Bengal. She did not even get a seat in areas such as Bardhaman, Murshidabad and Malda where she fared best in the 2016 election.
BJP's better performance on reserve seat for Scheduled Castes
The element of caste politics was also very effective in the Bengal assembly elections. The BJP did not miss the pulse of the Scheduled Castes (SC). Due to this, he got full support of these castes. Though TMC won more reserve seats than BJP, it lost 20% of seats compared to 2016. As far as the matter of Scheduled Tribes (ST) is concerned, both TMC and BJP got almost equal seats. In ST reserve seats, TMC gained a much lower edge than the BJP.
The Trinamool Congress has got a big success in the rural areas. It won 117 seats out of 156. It also had good success in urban and urban areas where BJP was the second party, but the gap between the two was large.
TMC dominated areas of Muslim influence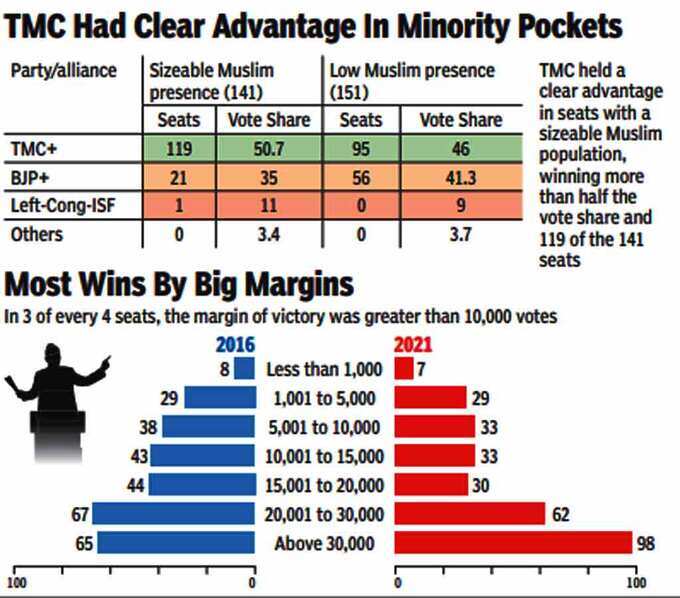 Wherever there was a significant number of Muslim voters, TMC dominated. The party won 119 out of 141 such seats on its account. TMC account for 50% of the vote in these areas.
#West #Bengal #election #result #shift #Bengal #BJP #TMC #LeftCongress #bjp #bjp #tmc