Uttarakhand China News: China Conspiracy To Infiltrate In Uttarakhand Built PLA Military Base 70 KM Away From India LAC
Curated by Shailesh Shukla | mcezone.com | Updated: Sep 28, 2021, 3:47 PM
PLA Infiltrate In Uttarakhand: China started strengthening its military preparation against India after the Doklam dispute. Under this, he has created a new post of PLA near Nepal Trijunction on the border with Uttarakhand.
Beijing
The Chinese dragon has once again taken provocative action against India. After Ladakh, about 100 soldiers of the Chinese Army PLA have now carried out infiltration about 5 km inside the Barahoti area of ​​​​Uttarakhand. In this incident last month, Chinese troops destroyed a bridge and some other infrastructure in Indian territory. Actually, Chinese soldiers had planned this incursion for a long time. Not only this, the PLA has made its new military base just 70 km away from the spot.
Satellite images released by open source intelligence analyst Detresfa clearly show that the Chinese military base is located just 70 km from the Line of Actual Control with India. China has built this new military base on the Nepal-India trijunction. It also includes new barracks for PLA soldiers. This new military base of China is located at an altitude of about 4 thousand meters. This military base is located in Janda County of Tibet. China started construction work in this area in the year 2019.


Tension on the border, Nepal said in the United Nations – 'Friendship with India and China' is 'most important' for foreign policy
This PLA post is located at a distance of 250 km from Pangong Lake.
The nearest airbase to this PLA military base is Nagri Gunsa and it is located 250 km from Pangong Lake. This PLA post is located in an area of ​​0.166 sq.km. China has built this PLA post to increase its strength on the LAC adjoining India. Now a large number of Chinese soldiers are stationed here. China's attempt to intrude in this area of ​​Uttarakhand has raised alarm bells amid positive progress on the withdrawal of troops in eastern Ladakh.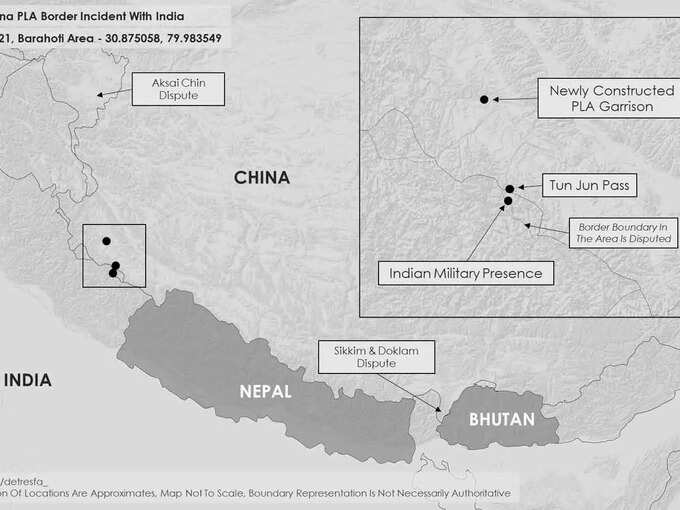 In the Barahoti area of ​​Uttarakhand, there has been infiltration from the Chinese side in the past. In September 2018, there was also news that Chinese soldiers had infiltrated here 3 times. In 1954, this was the first area where Chinese soldiers had infiltrated and later there was an attempt to capture other areas and then the 1962 war was fought. The incident on 30 August did not lead to a face-off as the PLA troops had withdrawn by the time they faced the Indian troops.
55 horses crossed the Tun Jun La pass, more than 100 Chinese soldiers entered
Security sources told ET that 55 horses and over 100 soldiers had entered Indian territory more than 5 km after crossing the Tun Jun La pass. In the last few years, there have been only minor incidents of infiltration from the PLA side in this area. The last time it happened was in July, after which New Delhi's concerns had increased. Tension with China already persists in eastern Ladakh. Government officials have confirmed that Chinese soldiers, accompanied by army horses, crossed the Tun Jun La pass to a pasture near Barahoti.
It is believed that this group of Chinese soldiers stayed for about three hours. Since this area is a demilitarized zone (where there are no soldiers), the presence of such a large number of PLA soldiers is a matter of concern for the security establishments. Sources said that the local people informed about this infiltration, after which the ITBP and Army team immediately reached there to confirm it. However, before the arrival of the Indian patrol, the Chinese soldiers had left the area and returned.

#Uttarakhand #China #News #China #Conspiracy #Infiltrate #Uttarakhand #Built #PLA #Military #Base #India #LAC