shreyas iyer fifty: India vs new zealand kanpur test day one stumps; Debutant shreyas iyer ravindra jadeja and gill hits fifty vs nz; IND vs NZ highlights: Shreyas Iyer and Ravindra Jadeja's performance in the last session, Gill's fifty, India scored 258/4 on the first day
Highlights
The Indian team has put tremendous pressure on the visiting team in the Kanpur Test.
On the first day, India scored 258 runs in 84 overs for the loss of 4 wickets.
Shreyas Iyer, Ravindra Jadeja and Shubman Gill hit half-centuries for him.
Kanpur
The Indian team scored 258 runs for the loss of 4 wickets in 84 overs till the end of play on the first day of the Kanpur Test against New Zealand. Kyle Jamieson dominated the spinners friendly wicket of Green Park Stadium. He put India in trouble, taking 3 wickets, but debut stars Shreyas Iyer and Ravindra Jadeja batted unmatched in the last session to take India to a strong score. Both these batsmen hit half-centuries, whereas earlier Shubman Gill had scored 52 runs.
Shreyas Iyer returned unbeaten on 75 off 136 balls with the help of 7 fours and 2 sixes, while Ravindra Jadeja remained unbeaten on 50 off 100 balls with 6 fours. So far, 113 runs in 208 balls have been shared for the 5th wicket between the two batsmen. When both of them open the innings on the second day, then there will be an effort to take this partnership even further. Iyer has a chance to score a century in the debut match.
Earlier, the tall fast bowler Kyle Jamieson again troubled the Indian batsmen. He sent an in-form captain Rahane (35 off 63 balls) to the pavilion after dismissing opener Shubman Gill (52 off 93 balls) in the first over after lunch, who was impressive in the first session. Meanwhile, Cheteshwar Pujara (26 off 88 balls) was distracted by veteran pacer Tim Southee (1 for 30).

IND vs NZ Kanpur Test: Sunil Gavaskar gave the test cap and Shreyas Iyer kissed him, watch video
India had lost the wicket of Mayank Agarwal (13 off 28 balls) in the first session. Gill had put New Zealand's main spinner Ayaz Patel on the back foot in the first session with a fine display of his cut and drive but his return to the pavilion early in the second session affected the flow of the Indian innings. Gill went on to play Jamieson's full length delivery defensively but the ball went through his bat and pad and got into the wickets. Gill hit five fours and a six on Patel in his innings.


Who is debut star Rachin Ravindra? Named after Rahul Dravid and Sachin Tendulkar
This was a great opportunity for Pujara to end his long wait for a century. He had just tried to open his hand by hitting fours on Jamieson and Patel when the Southee's ball on the fifth stump line ended up in the gloves of wicketkeeper Tom Blundell, kissing his bat. Pujara scored his last Test century in January 2019. He hasn't reached triple digits in the last 23 Tests and 39 innings and averages 28.78 in the meantime. The same was the case with Rahane, for whose career two Test matches against New Zealand could prove to be important.

IND vs NZ Kanpur Test: Pitch read in 2 minutes, toss made the task easier, understand Dravid-Rahane's 'Ashwin, Akshar, Jadeja' plan
There was a time when he seemed to like the Green Park pitch and he would play big innings to secure his place in the team going to South Africa but Jamieson soon broke the illusion. Rahane played on his wickets in an attempt to cut Jamieson's outgoing ball on the back foot. Just on the first ball, he was saved from getting out due to taking DRS. He hit six fours in his innings.

Virat Kohli, taking help of Sanjay Bangar to return to form, was seen practicing at Wankhede
Earlier, Rahane won the toss and elected to bat but India lost Agarwal's wicket in the eighth over itself. This was a great opportunity for Agarwal to cement his place in the team but he was caught by Blundell off Jamieson's delivery. Gill, who did not play against England due to injury, completed his fourth half-century of his Test career with a lucrative shot across the field. spoiled. Gill and Pujara added 61 runs for the second wicket.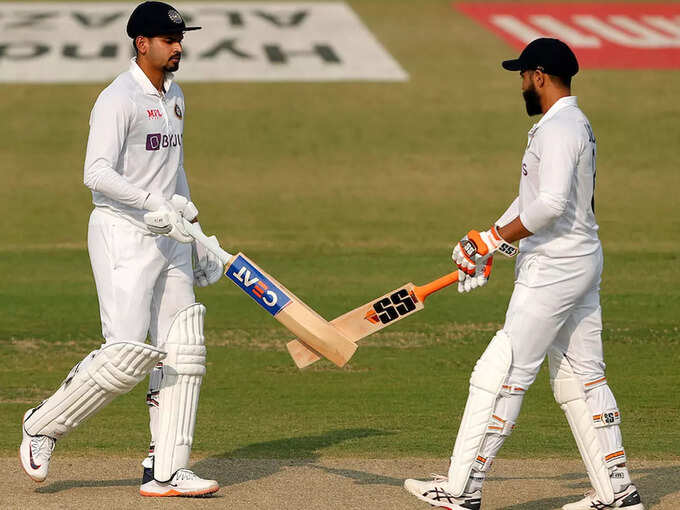 IND vs NZ highlights: Shreyas Iyer and Ravindra Jadeja shine in the last session, Gill's fifty, India 258/4 on Day 1
#shreyas #iyer #fifty #India #zealand #kanpur #test #day #stumps #Debutant #shreyas #iyer #ravindra #jadeja #gill #hits #fifty #IND #highlights #Shreyas #Iyer #Ravindra #Jadejas #performance #session #Gills #fifty #India #scored #day