shreyas iyer debut century: ind vs nz test: shreyas iyer scored 105 in debut test, enter in to sourav ganguly, virender sehwag
Kanpur
Playing big innings in the debut match is the dream of any batsman. Shreyas Iyer (Shreyas Iyer Debut Test Century) made many records in his name by scoring a blistering century in the debut test against New Zealand. Shreyas has become the 16th Indian to score a century in a Test debut.
Shreyas completed his first century of Test career with two runs off Kyle Jamieson on the second day of the first Test match of the series at the Greenpark Stadium in Kanpur. Shreyas completed his century in 157 balls. Pacer Tim Southee ended this excellent innings of Iyer. Saudi got Shreyas caught by Young on a personal score of 105 runs.
The Mumbai batsman hit 12 fours and 2 sixes during this period. With this Shreyas has joined Rohit Sharma's club including veteran Lala Amarnath, Ganguly and Sehwag. Lala Amarnath scored the first century in the debut test for India.
Before Shreyas, these 15 Indian players have scored a century in the debut test:-
Lala Amarnath scored 118 against England in 1933, Deepak Shodhan 110 against Pakistan in 1952 and AG Kripal Singh scored an unbeaten 100 against New Zealand in 1955.
Abbas Ali Baig scored 112 against England in 1959 while Hanumant Singh scored 105 against England in 1964. Gundappa Vishwanath scored 137 against Australia in 1969 while Surinder Amarnath scored 124 against New Zealand. Former captain Mohammad Azharuddin scored 110 runs against England in 1984, while Pravin Amre scored 103 runs in the debut Test against South Africa.
Former captain Sourav Ganguly is at number 10 in this list, who scored 131 runs against England in 1996. Former explosive opener Virender Sehwag scored 105 runs against South Africa in 2001. Suresh Raina scored 120 against Sri Lanka in 2010 while Shikhar Dhawan scored 187 runs in the debut test against Australia. Rohit Sharma scored 177 runs against the West Indies in the year 2013, while Prithvi Sauv made his Test debut against the Windies in 2018 with an innings of 134 runs.
Shreyas averages 52.18 in first class cricket
Shreyas Iyer has done brilliantly in first class cricket to reach here. He averages 52.18 in first class cricket and has a very fast strike rate (81.54). An opportunity came for him in the team when Virat Kohli, Rohit Sharma, KL Rahul and Rishabh Pant were dropped from the first Test being played in Kanpur.
Gavaskar handed over the Test cap
Former India captain Sunil Gavaskar handed the cap of India's Test Cricketer No. 303 to Shreyas. It was a very emotional moment for Shreyas Iyer. What Gavaskar said, it was subdued in noise but Iyer was feeling very motivated listening to him. The very next moment he took the cap in his hand, looked at it for a while and then kissed.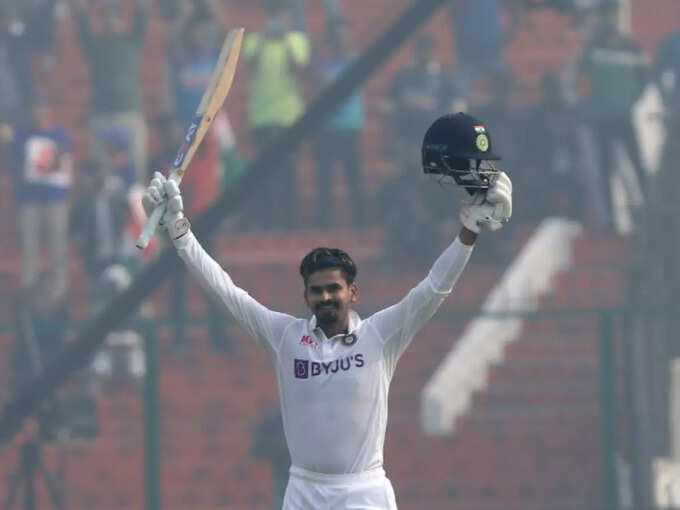 #shreyas #iyer #debut #century #ind #test #shreyas #iyer #scored #debut #test #enter #sourav #ganguly #virender #sehwag