ram mandir land deal controversy: controversy over 2 more land deals of ram mandir trust land worth 20 lakhs bought for 2.5 crores
Highlights:
Another land deal of Ram Mandir Trust landed in controversy
Allegations of buying 20 lakh land for 2.5 crores
Land purchased from Ayodhya Mayor's nephew Deep Narayan
There was a ruckus when the first 2 crore land was taken for 18 crores
Ayodhya
After a long court battle, the dream of building a grand Ram temple in Ayodhya has come true. The construction of the temple is going on for almost a year. Along with the construction of the temple, the Shri Ram Mandir Trust is also facing controversies related to land deals. The trust has now been accused of scam in another land deal. It is alleged that the trust has bought land worth 20 lakhs for Rs 2.5 crore.
It is being told that Deep Upadhyay, nephew of Ayodhya Mayor Rishikesh Upadhyay, has a big role in these deals. Deep Narayan has sold the land purchased for Rs 20 lakh to the Ram Mandir Trust for Rs 2.5 crore. Apart from this, Deep has also sold another land worth Rs 27 lakh to the trust for Rs 1 crore. During this deal, Anil Mishra of the trust was present and in his presence the land money was transferred to Deep Narayan's account.

Ram Mandir News: Champat Rai explained the complete 'mathematics' of the land deal, appealed to the people – don't be misled
Land worth 2.5 crores in just three months!
It is being told that on February 20 this year, Deep Narayan had bought a land from the Mahant of Ayodhya for Rs 20 lakh. According to the circle rate, the value of this land was estimated at Rs 35.6 lakh. About three months later, in May, Deep Narayan sold this land to the Ram Mandir Trust for Rs 2.5 crore. Apart from this, about 677 square meters of land has also been sold by Deep to the trust for Rs 1 crore. According to the circle rate, the value of this land is being told only 27 lakhs.

Ram Mandir: Champat Rai denies scam in the name of trust in Ayodhya, says allegations are politically motivated
There was a ruckus on buying land worth 2 crores for 26 crores
It is worth mentioning that earlier there were allegations against Ram Mandir Trust of buying land worth Rs 2 crore for 26 crores. Ram Mandir Trust General Secretary Champat Rai had to give an explanation amid strong opposition attacks. Now two new land deals have raised the concerns of the trust members. People are raising questions that how the land which was worth Rs 30 lakhs became 2.5 crores in just 3 months? Is there any scam in these deals?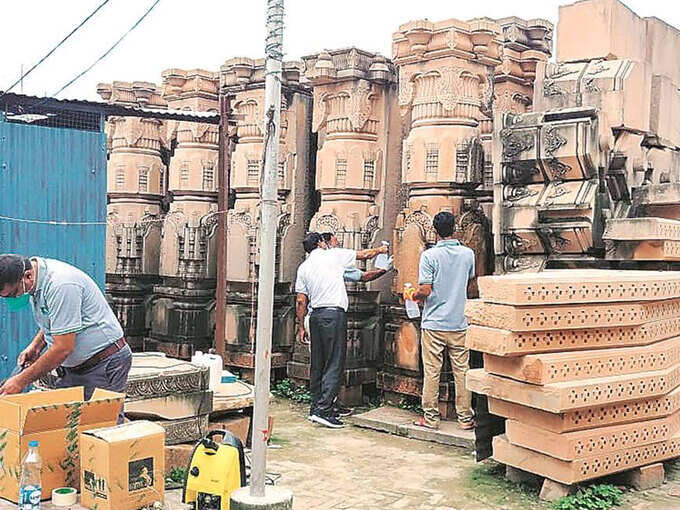 temple construction in full swing
#ram #mandir #land #deal #controversy #controversy #land #deals #ram #mandir #trust #land #worth #lakhs #bought #crores