rajasthan news: shikshak transfer me rishwat mamale me cm ashok gehlot ki safai: CM Ashok Gehlot's clarification regarding corruption in teacher transfers
Highlights
CM's clarification in the bribery case of transfer of teachers
CM Ashok Gehlot said his words were misinterpreted
A day ago, in the honor ceremony of teachers, CM asked the question of bribe
The teachers said 'yes' in unison
Dausa
Talking to the media in Dausa on Thursday, Chief Minister Ashok Gehlot has given clarification on corruption in the education department. In his statement, he has said that his words have been misinterpreted during the teacher's honor ceremony in Jaipur. He said that corruption happens everywhere. We want to know how to stop it? Corruption has no place in the Congress government of the state. After the actions of ACB, the Collector and the SP have also gone to jail and were dismissed. He said that the ACB of Rajasthan is doing the best work in India. It is not only about the teachers, the officials of their own ministry have also been trapped.
The Chief Minister said that the government's goal is to stop corruption. In such a situation, on the day of the teacher's honor ceremony, he was trying to say that such a policy should be made in which the teacher should know when he will be transferred? Due to which the teacher will not have to pay even money. And there will be no corruption. Chief Minister Ashok Gehlot had arrived on Thursday to take stock of the camps under the campaign with the village administration.


During construction of house in Jaipur, land collapsed, 3 laborers buried, 2 rescued, search for one continues
Actually, the Gehlot government of Congress in Rajasthan is getting surrounded by corruption in transfers of teachers. In this case, after a video that went viral on social media on Tuesday, BJP leaders have demanded the resignation of the Education Minister. This video is of a function in which Chief Minister Ashok Gehlot is addressing the teachers. During this, he asked the teachers whether they had to pay money for transfers, that is, to pay bribes? So during this time the teachers said in unison 'yes'.
Gehlot government surrounded on bribe for teacher transfers, open poll in state level teacher function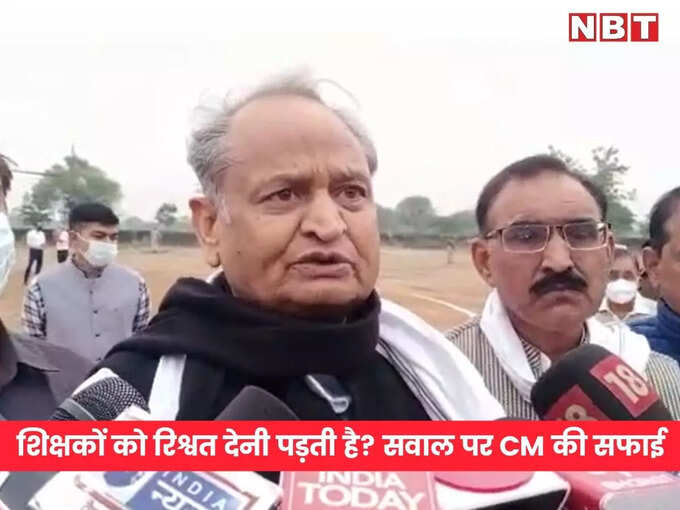 #rajasthan #news #shikshak #transfer #rishwat #mamale #ashok #gehlot #safai #Ashok #Gehlots #clarification #corruption #teacher #transfers