Rajasthan News: 70 sheep killed in road accident in Sirohi, Rajasthan
Sharad Tak
Sirohi. The orgy of sheep's death was witnessed on Thursday evening on the NH Highway of Sirohi district of Rajasthan. When an uncontrolled truck crushed 70 sheep. He died in the accident and about 30 sheep were injured. After the incident, the sheep owners were in a bad condition.

These 3 real sisters never went to school, now together they get selected in RAS

On getting information about the incident, Kotawali police station reached the spot and inquired about the incident. According to the information, roaming cattle rearers leave for their homes from other states during the rainy season. A group of cattle ranchers was doing the same. All the shepherds were returning to Sirohi with their cattle from Idar in Gujarat via Udaipur. Late on Thursday evening, a truck driver crushed the sheep by speeding and recklessly driving the vehicle at an outside loss.
Dausa News: Girl returning home after leaving tuition to younger brother raped, protested, condition critical
Carcasses of sheep were scattered on the road after the accident. About 70 sheep died in the accidents. On the other hand, the animal husbandry family was in a bad condition. Their only means of livelihood were these sheep which were killed in the truck crash today. On getting information about the incident, Kotawali police reached the spot and took the driver of the truck and Khalasi into custody. A team of veterinarians has been called to the spot, who conducted the post-mortem of the dead sheep. There is a wave of mourning among the livestock farmers after the accident. He is pleading now how will his livelihood go?
A thief came in a luxury car in Jaipur, committed such a crime in 6 minutes, see- Live Theft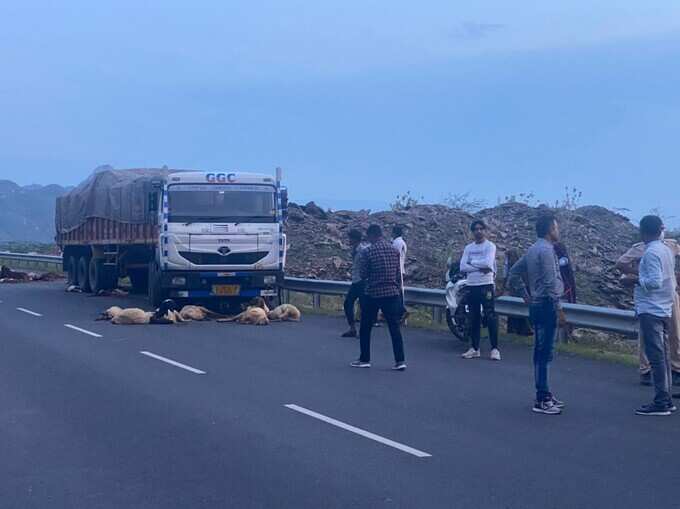 Sirohi News: Truck rams over 100 sheep in Sirohi, 70 killed
#Rajasthan #News #sheep #killed #road #accident #Sirohi #Rajasthan