Rahul Dravid became off-spinner, 'The Wall' was seen preparing Team India for the Kanpur Test
The Board of Control for Cricket in India (BCCI) has posted a video on Twitter, in which newly appointed Indian team head coach Rahul Dravid is seen preparing players for off-spin.
Nityanand Pathak,
mcezone.com | Updated: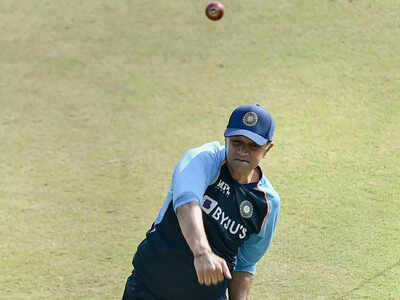 Kanpur

Rahul Dravid… Name one, but many things. When he used to play, the roles kept changing according to the requirement of the Indian team. He was a great batsman, but when needed, he was seen in the role of wicketkeeping. If given a chance, try your hand at bowling too. Something similar was also seen in Kanpur's Green Park Stadium. Coach Rahul Dravid, once a problem for the bowlers on the field, was seen preparing the players with off-spin.
The Board of Control for Cricket in India (BCCI) has posted a video on Twitter. In the video, the newly appointed head coach of Team India is seen doing off-spin. It looked different from a throw-down. He seems to be bowling like a professional off-spinner. Very few people will remember that Rahul Dravid has one Test and 4 ODI wickets to his name.
, That moment when #TeamIndia Head Coach Rahul Dravid rolled his arm over in the… https://t.co/lAsaPqqOAR

— BCCI (@BCCI) 1637750124000
The beginning of full time coaching of Rahul Dravid has been strong. The Indian team registered a one-sided 3-0 win over the visiting team in the T20 International series against New Zealand. Now the first Test between the two teams will be played at Kanpur's Green Park Stadium from Thursday, 25 November.
Big names like Rohit Sharma, injured KL Rahul and regular Test captain Virat Kohli are not playing in this match. Rohit and Virat have been rested. Kohli will join the team for the second Test.

Web Title
watch video team india head coach rahul dravid rolled his arm over in the nets for kanpur test vs new zealand
(News in Hindi from Navbharat Times , TIL Network)
**** Multiplex Ad ***