pm modi praises yogi work: PM Modi in Varanasi: PM Modi praises Yogi govt work during his speech in Varanasi: successful, hardworking, hardworking, unprecedented…
Highlights:
PM Modi reached Varanasi, praised CM Yogi Adityanath fiercely in his address
PM Modi used words like 'hardworking', 'successful', 'hardworking' for Yogi in his address.
The important meaning of this praise received from PM Modi before the assembly elections to be held next year
Varanasi
Prime Minister Narendra Modi reached Varanasi amidst political upheaval in UP for some time, questions on Yogi's working style and speculations of increasing distance between the Centre-UP. PM Modi patted CM Yogi Adityanath fiercely with the inauguration of development projects worth 1500 crores here. PM Modi used words like 'hardworking', 'successful', 'hardworking' and 'unprecedented' for Yogi in his address.
Before the assembly elections to be held next year, this praise from PM Modi has important meaning. Now it is clear that the next election in UP is to be fought under the leadership of Yogi and PM Modi has also given his 'blessing' to the CM for this.
Speculation of displeasure removed from Modi's speech
In Varanasi, PM Modi has come for the foundation laying and inauguration of development projects, but the way he praised Yogi's work in his speech, it caught everyone's attention. The speculations of change of power and cabinet reshuffle in UP have also been sidelined in a way.
PM Modi said in his speech, 'I have been discussing so many works for the development of Kashi and the entire UP for so long, but this list is so long that it will not end so soon. When there is a lack of time, I also have to think many times that which development works of UP should I discuss, which works should I skip. All this is a miracle of Yogi ji's leadership and the integrity of the UP government.
'Yogi work hard, put themselves in every task'
In Varanasi, PM Modi said, 'It is not that before 2017 there were no schemes for UP, money was not sent! Even then there were so many swift efforts from Delhi. But then in Lucknow they used to get blocked. Today Yogi ji himself is working hard. The people of Kashi see how Yogi ji constantly comes here, reviewing each and every development plan. By applying energy themselves, they speed up the work. They do such hard work for the whole state. Visit each district. With each task, he takes care of himself. This is the reason why these efforts of change in UP are moving towards making modern UP today.
'Now there is rule of law in UP, there is fear among criminals'
In his speech, PM Modi said, 'Today there is rule of law in UP. The mafia raj and terrorism, which were once becoming uncontrollable, are now under the grip of law. The way parents always lived in fear and apprehensions regarding the safety of sisters and daughters, that situation has also changed. Today the criminals who raise their eyes on sisters and daughters know that they will not be able to escape from the law.
Attacking the previous governments, the PM said, 'The government in UP today is running on developmentalism, not corruption and nepotism. That is why, today the public is getting the benefits of the schemes of the people in UP directly. That is why, today new industries are being invested in UP, employment opportunities are increasing.
'Yogi government's focus on infrastructure'
PM Modi also praised Yogi for the improvement work of the infrastructure. PM Modi said, 'Uttar Pradesh is emerging as the leading investment destination of the country. UP which was considered difficult to do business in a few years ago, today UP is becoming the preferred destination for Make in India.
PM Modi said, 'Yogi's government in UP's focus on infrastructure is the reason for this. Unprecedented improvement in road, rail and highway connectivity is making life easier here, business is also getting more convenience. Be it Defense Corridor, Purvanchal Expressway, Bundelkhand Expressway, Gorakhpur Link Expressway or Ganga Expressway, they are going to give new heights to the development of UP in this decade.
'UP number one in corona testing and vaccination'
The Prime Minister also appreciated the UP government for the war with Corona and vaccination. PM Modi said, the way UP has stopped the second wave of corona from spreading, it is unprecedented. Uttar Pradesh's efforts in dealing with Corona are remarkable. I am grateful to the Corona Warriors in UP and the entire team dealing with this crisis. The way you people gathered day and night to make arrangements in Kashi, it is a great service. '
On the platform of Varanasi, PM Modi said, 'Today Uttar Pradesh is the state with the highest testing of corona in the entire country. Today Uttar Pradesh is the state with the highest number of vaccinations in the entire country.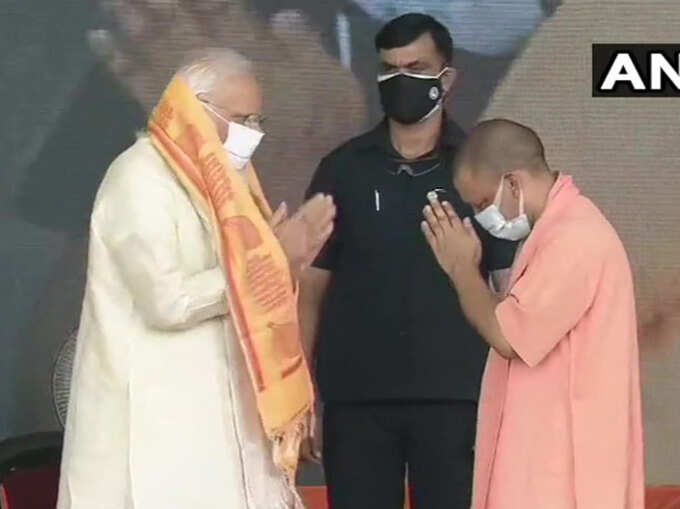 PM Modi-Yogi Adityanath in Varanasi
#modi #praises #yogi #work #Modi #Varanasi #Modi #praises #Yogi #govt #work #speech #Varanasi #successful #hardworking #hardworking #unprecedented