pawan singh new film bin bajawa sapera 2: Pawan singh film first poster launched: The film is being directed by Ritesh Thakur while the producer of the film is Neha Shri.
The first poster of Bhojpuri film star Pawan Singh's upcoming new film 'Bin Bajwa Sapera 2' has been launched on Monday. As soon as the poster was launched, Pawan Singh's fans started reacting. Fans are sharing it on their Facebook, Instagram and WhatsApp. Ritesh Thakur is directing this film which is being made under the banner of Neha Shree Entertainment while the producer of the film is Neha Shree.
Ritesh Thakur told about the film that this film is the sequel part of the film 'Bin Bajwa Sapera 2' based on the story of Sampo 'Bin Bajwa Sapera 2'. He also said that Sapera was the biggest hit film of 2016. Let it be mentioned that Pawan Singh was seen in the role of Sapera in 'Bin Bajwa Sapera'. This role was extremely liked by the audience. Now it will be interesting to see what role he will play in 'Bin Bajwa Sapera 2' and how much the audience likes it.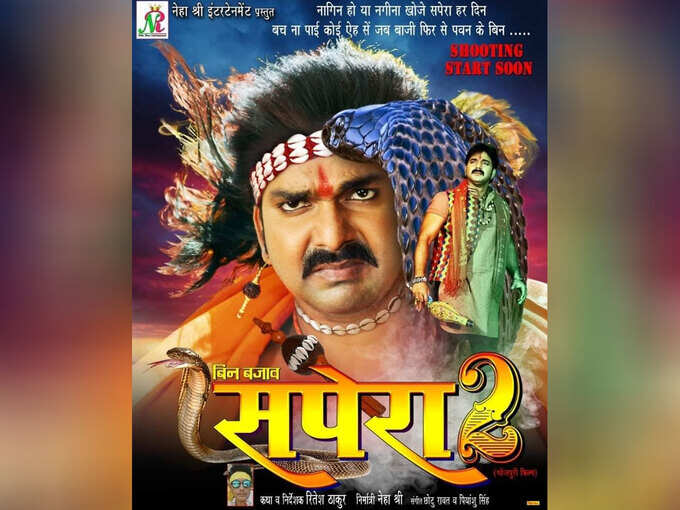 Regarding the film, the producer says that people will enjoy the film a lot as our company specializes in meeting the demand of the audience. When the first look of the film is released before the shooting, he says that the audience is confused before the shooting about the story of the film and what the actor will look like. Now by looking at this poster look, you will know what kind of film it will be. The composers of the film are Chhotu Rawat and Priyanshu Singh. The promoter is Sonu Nigam. However, the selection of the remaining artists and technicians continues. The shooting of the film will start soon.
#pawan #singh #film #bin #bajawa #sapera #Pawan #singh #film #poster #launched #film #directed #Ritesh #Thakur #producer #film #Neha #Shri