Karan Kundrra Tejasswi Prakash Fake Love Story: 5 Reasons Why We Think Karan Kundrra and Tejasswi Prakash Love Story in Bigg Boss 15 is Fake
'Bigg Boss 15' has now gone beyond a month and a half journey. While the contestants of the show became active in the fights inside the house from the second day of the grand premiere, now the show is becoming cumbersome somewhere. This is because the audience already has an idea of ​​who will shout on which issue, who will support whom and who is going to do what in the task. However, there is no doubt that Karan Kundra, Shamita Shetty, Tejasruvi Prakash, Pratik Sahajpal and Nishant Bhatt have emerged as strong-5 contestants of the show. But in the meantime, something has happened in the show, which is not being embraced by the audience. For the past few weeks, Karan Kundrra and Tejasswi Prakash have been appearing in the show as 'Love Birds'. While the fans of both are very happy on social media, there are also a large number of viewers who find this love story a fake love story.
In the history of 'Bigg Boss', 'Love Birds' appear in almost every season. The love story of Maysha Iyer and Ishaan Sehgal had started earlier this season too. But now both are out of the house. The friendship between Prateek Sahajpal and Akasha Singh also grew, but before the matter could proceed, Akasha dropped out of the show. The math of TRP shows that the love story of the house of 'Bigg Boss' is always liked by the audience. Then whether it is Rakesh-Shamita duo on OTT or Nishant Bhatt and Moos Jattana. In 'Bigg Boss 14' also Ejaz Khan and Pavitra Punia as well as Ali Goni and Jasmine Bhasin fell in love. But even if this wave of love has arisen between Karan Kundra and Tejasvi Prakash, its cold air is not reaching the audience somewhere.

Obviously, the question is, if so, why? And if not, why is this happening? After looking at what happened in the show in the last few weeks, 5 reasons come out which, if looked at, can make it difficult for anyone to digest Karan and Tejaswi's love!
1. Love story started suddenly

The biggest shortcoming of Karan Kundra and Tejasvi Prakash's love story that comes to mind is that it started suddenly. 'Bigg Boss 15' is live 24 hours on OTT. Every day an episode of the show is telecast. But no one knew when the seed of love germinated in the hearts of Karan and Tejasvi. As soon as they saw each other, they suddenly started appearing together. Suddenly there was tears in my hands and in my arms. The real problem started here. Every day the viewers of the show did not understand when the two came so close. A few days ago, in an episode, Karan and Tejasvi were seen talking about this in the garden area. Tejaswvi tells Karan that she has come here to play Independent. They don't care what anyone asks them to do. On this Karan tells her that she will regret it later. Obviously, this kind of conversation deepens the suspicion of the audience that either of them has planned this 'love story'. Or the occasional makers have pointed this out.
2. The reaction of both is not organic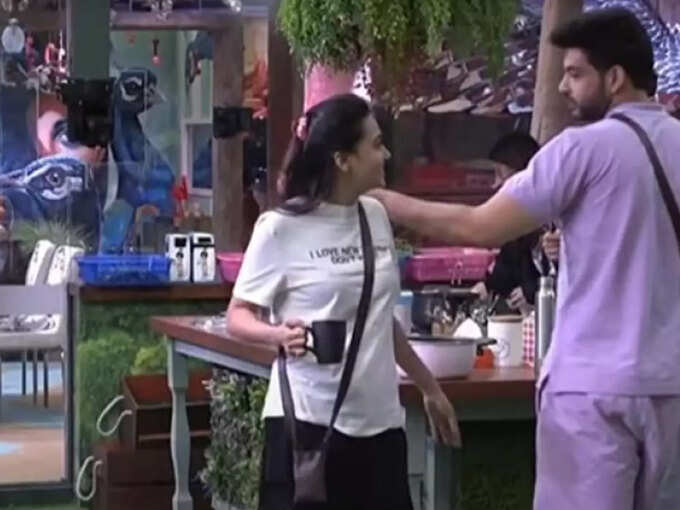 Karan and Tejasvi are both strong personalities. Both are sensible. While Karan generally looks sober and calm, Tejasrvi is funny and playful. Both look good together. Strategies also make good. But when they are together, love seems less and friendship more. This is because perhaps their words, their emotions do not seem to be organic. Looking at both of them, it seems that something is missing somewhere. Not many days have passed since we saw Nishant and Moos together. Also saw Ejaz and Pavithra together. Also saw Shahnaz and Siddhartha and also Asim-Himanshi. Remember, seeing him on screen, we viewers also felt his love. If they used to fight, we would also get worried. But in the case of Karan and Tejasvi, this connect is missing.
3. Distances of Karan Kundra, proximity of Tejasrvi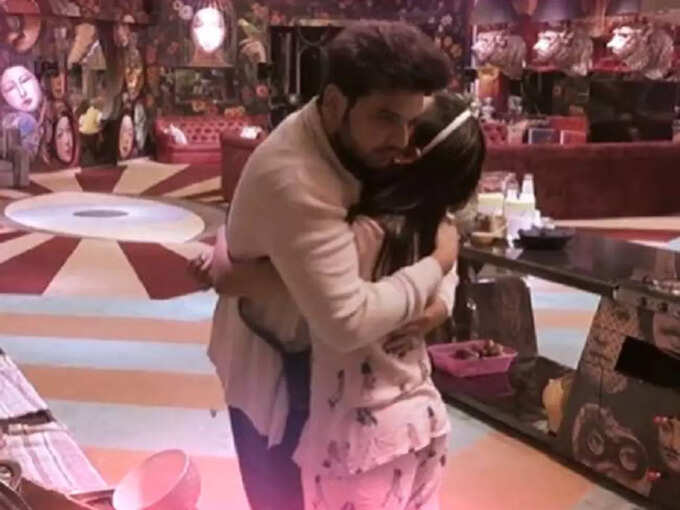 You must have noticed. We see this in more or less every episode. Whenever Tejasvi comes to Karan, she hugs him, holds him and sits down, sleeps with her head on his chest, you will notice Karan's reaction on every such occasion. It is not that he removes Tejasvi, but whenever this happens, Karan accepts all these things as if either he does not care about all these, or as if he is a little hesitant. It has seldom happened in the show when the two fell in love and hugged each other.
4. Both shy away from expressing love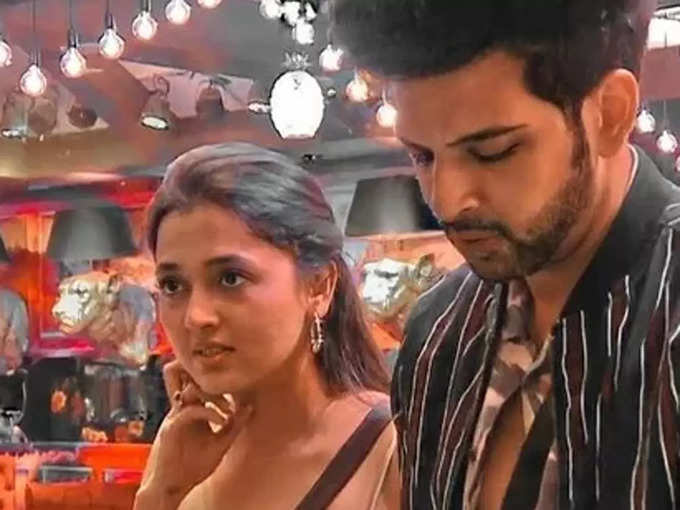 This is the biggest point of viewers of Bigg Boss on social media and it is also true in a way. For the past few weeks, Karan and Tejasvi have been making love birds on TV, but both of them shy away from expressing love. In the previous episodes, Tejasruvi has once described Karan as her 'boyfriend' and once as 'Crush'. While no such statement has ever come from Karan Kundra for Tejasvi. Karan has definitely said once or twice that he 'likes Tejasrvi'. Obviously, if the two have fallen in love, it should also be expressed. This gives clarity to the fans. But neither of them express it either in body language or by speaking openly. Stop yourself somewhere. Maybe it's also because there is a world outside and if there is such an expression inside the house then it also has an effect on the world outside the show.
5. Struggle even in consensus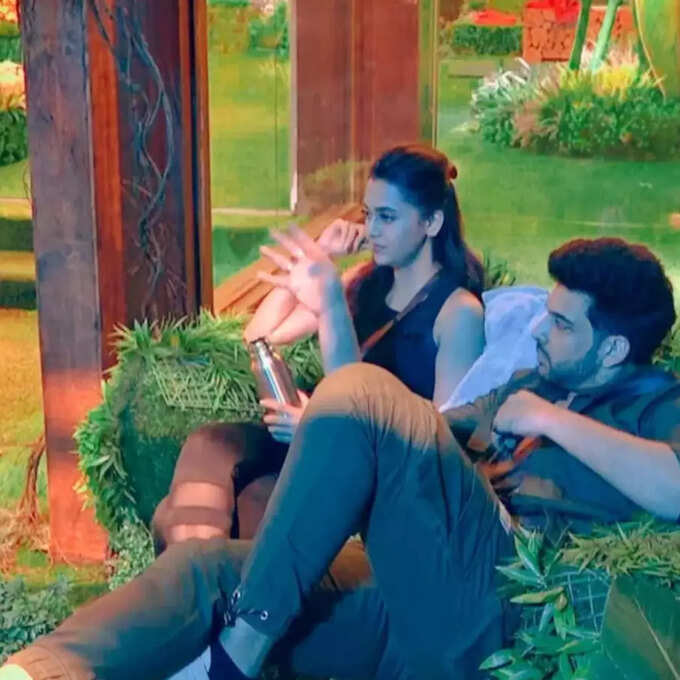 Karan and Tejasvi are both smart players. Specializes in creating smart i.e. strategy. In this case, the coming together of two identical contestants makes their game very strong. Both also specialize in manipulating. There is no doubt that this pair of two will take both of them ahead in the game. But you will notice that in almost every episode, both of them seem to promise or remind each other that no matter what, we have to be unanimous. There is no need to have different opinions on the same issue. Love is not so complicated. In love you stand for your partner every moment without speaking, without telling. Even if they lose, they make him win. In the case of Karan and Tejasvi, there must be some chemical loca somewhere.

Tejaswi's friend Shivin Narang's entry in Bigg Boss 15? Will their relationship with Karan break up?


'If I could talk to someone, it wouldn't happen today', Karan Kundra started crying remembering the incident of his childhood


Dating with Shivin Narang? What did Tejasvi Prakash say?

#Karan #Kundrra #Tejasswi #Prakash #Fake #Love #Story #Reasons #Karan #Kundrra #Tejasswi #Prakash #Love #Story #Bigg #Boss #Fake