Kangana Ranaut twitter Toolkit Controversy: Kangana Ranaut slams twitter after it asks for freedom of speech in Toolkit Controversy – Jumping into toolkit and Twitter controversy
After the Toolkit Controversy, while the maneuvering and tussle between Twitter and the Government of India has increased, now Kangana Ranaut has also jumped into the matter. Kangana's account was recently suspended by Twitter due to offensive tweets. In such a situation, Kangana, which has already flared up on the micro-blogging site, is now raining. Kangana has resorted to Instagram to target Twitter. The actress has raised the question that Twitter wants to blast and control the governments, have we really not learned anything from the East India Company?
Kangana shared an Instagram story
Kangana has also shared Twitter India's statement on her Instagram story, in which Twitter has argued for freedom of expression before the government. Kangana writes, 'Poor Twitter is demanding freedom of expression, Twitter the Great, an unelected member of parliament, the world's highest judge, the guardian of the moral compass of humanity and his basic ability to demand or coerce this power or What is credit? '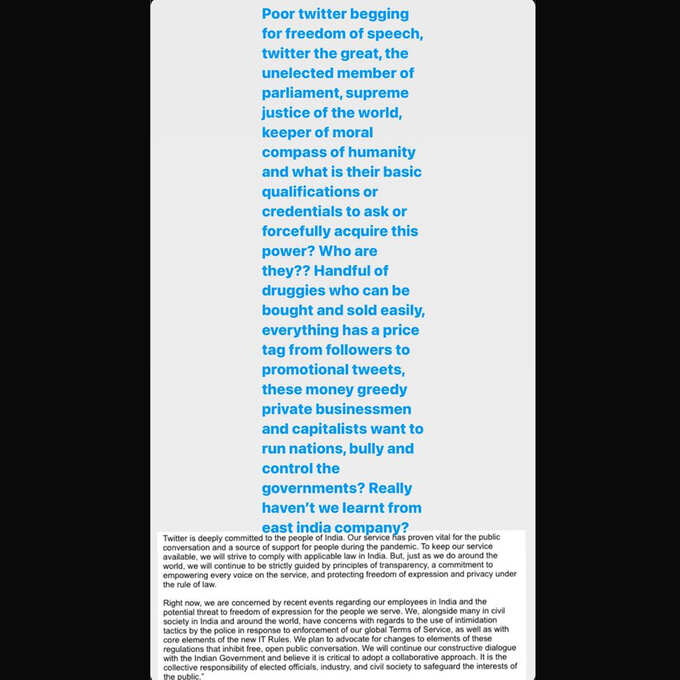 'Easy to buy and sell followers'
Kangana further questioned and alleged on Twitter that followers are also bought and sold there and these are a handful of people who take drugs. Kangana writes, 'Who are they? People who take a handful of drugs, which can be easily bought and sold, everything from followers to promotional tweets are priced, these are money greedy private business men and capitalists who want to run countries, intimidate governments and Want to control? Did we really learn anything from the East India Company? '
Kangana Ranaut is studying the history of Punjab

Simultaneously, Kangana Ranaut also shared a photo of herself on Instagram on Thursday. In it, she is seen lying in the sun and reading the history of Punjab. Posting the picture, Kangana wrote in the caption, 'How heartbreaking, conflicting and cruel is the history of India … If you take one side you are a fool, but if you do not take one side you are a bigger fool. There are. '
Here, Twitter said- We are committed to the people of India
On the other hand, Twitter has also released a new statement following the ongoing talks between the central government on new IT rules. It states that Twitter is willing to continue its engagement with the Government of India. Twitter said in a statement that it is committed to the people of India and its service has proved to be important for public engagement. Twitter has supported people during the epidemic. Twitter further said that as they do around the world. He will also adhere strictly to the principles of transparency in India, commitment to empowering every voice in the service, freedom of expression under the law and protection of privacy.

#Kangana #Ranaut #twitter #Toolkit #Controversy #Kangana #Ranaut #slams #twitter #asks #freedom #speech #Toolkit #Controversy #Jumping #toolkit #Twitter #controversy