Kangana Ranaut Reaction On Twitter Account Suspension: Kangana Ranaut Speaks When Twitter Account Is Suspended – Whites Want To Slave Americans
Bollywood actress Kangana Ranaut's Twitter account has been suspended forever. Twitter says that Kangana Ranaut was constantly violating her 'Hateful Conduct Policy' and so now her account has been suspended forever. However, now Kangana Ranaut's sharp reaction has also come to the fore on this issue.
On the suspension of her Twitter account, Kangana said, "Twitter has only proved my point that white Americans by birth think they can enslave a brown man. They want to tell you what to think, what to say or what to do. Fortunately, I have many platforms that I can use to raise my voice and as a cinema it includes my own art. But my heart goes out to the people of this country who have been tortured, enslaved and censored for thousands of years and the disease is still not over. '
Kangana has also claimed that her account has been suspended only after she shared a video on Twitter demanding the imposition of presidential rule in Bengal.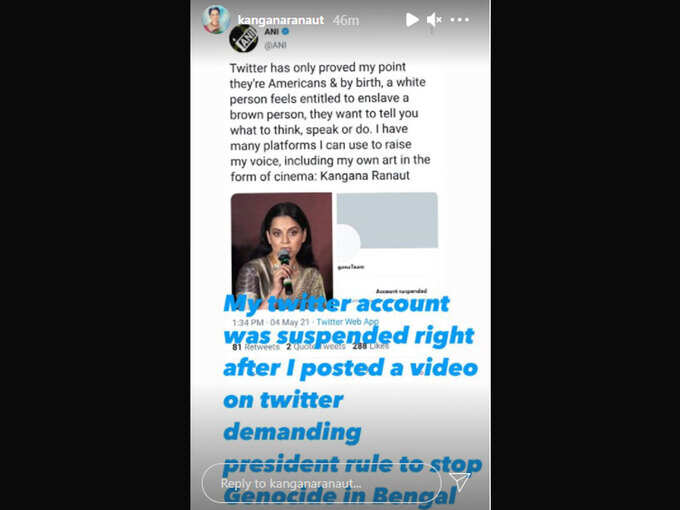 Kangana spoke- do not distract from the violence in Bengal
Opposing Twitter's unilateral action, Kangana told people, "I urge all of you not to divert attention from the violence in Bengal and put pressure on the government to stop it. All attention has gone to the suspension of my Twitter account. It doesn't matter because I can have my say through many platforms. '
Angered by the BJP's defeat in the Bengal elections, Kangana Ranaut was constantly tweeting. Some of Kangana's tweets were described by Twitter users as highly offensive and inciting violence. Even before the account was suspended, on Tuesday, May 4, Kangana had made an offensive tweet in which she compared Mamata Banerjee to Tadka without mentioning her name. Many people had reported Kangana's tweets, after which Twitter took action and suspended Kangana's account.


Kangana Ranaut's bad words again, she spoke to Mamata Banerjee – blood thirsty Tadka
Earlier, Kangana had made another tweet in which she had appealed to PM Narendra Modi to come in the year 2000 for the violence that took place after the Bengal election results. Linking it to the Gujarat riots, Twitter users termed Kangana's tweet as spreading violence and hatred.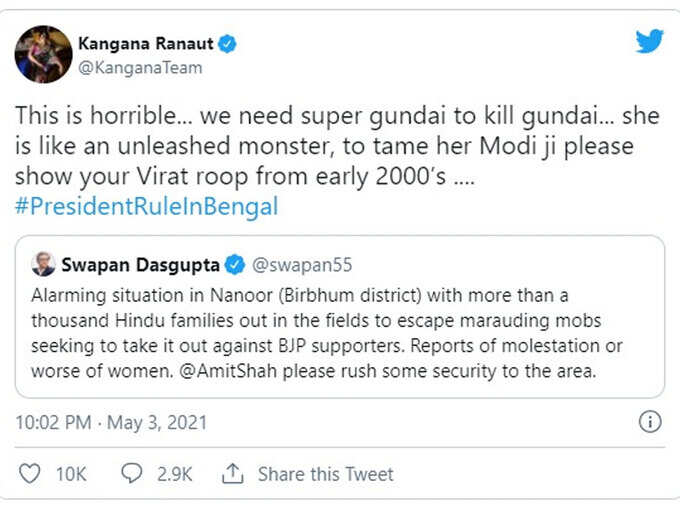 Earlier, Kangana Ranaut's Twitter account was handled by her sister Rangoli Chandel. There were also many objectionable tweets from this account after which he was also suspended. Then a new account was created under the name angKanganaTeam which Kangana took over last year.


Kangana Ranaut's Twitter account suspended, action taken on 'offensive' tweets
#Kangana #Ranaut #Reaction #Twitter #Account #Suspension #Kangana #Ranaut #Speaks #Twitter #Account #Suspended #Whites #Slave #Americans