Jio Airtel not compete with Vi 699 Plan free Zee5: 336GB data and Zee5 for 1 year to compete with this vodafone idea plan
Vi Recharge Plans under 700:
Of course, Vodafone Idea is in a difficult position at the moment, but there is no doubt that the company has many such Vi Prepaid and Vi Postpaid plans which are not even with any other telecom company like Reliance Jio and Airtel. Today we are going to talk about one such Vi Plan which offers so many great benefits with a validity of 84 days which Jio or Airtel has no break. Let's see which one is that plan and also let's take a look at the benefits.
Vi 699 Plan Details
With this Vi plan, users are given 6 GB data per day, unlimited calling on any network and 100 SMS per day. This plan offers a validity of 84 days, according to this, a total of 336 GB data will be available in the plan. This is nothing, there are many other benefits available with this Vodafone Idea plan, let us tell you.
read this also-Rs.2499 OnePlus Band for just Rs.999! Seeing this offer of the company, you will also say – what a wonderful deal
Vi 699 Plan: Other Benefits
With this plan, you get free access to ZEE5 Premium for 1 year, binge all nights like surf, stream and share from 12 pm to 6 am without using data from the pack, save between Mon-Friday The facility to use the lost data on weekends and free access to Vi Movies and Tv is given.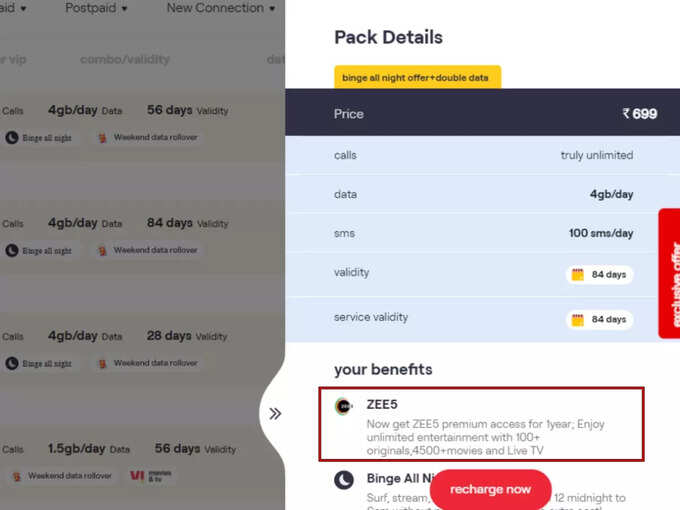 read this also-Full discount of Rs 70,000 on this 55 inch Smart Tv model, hurry up, this deal does not get out of hand
Airtel 698 Plan
With this Airtel plan, users get 2 GB data per day, unlimited calling on any network and 100 SMS per day with a validity of 84 days. Accordingly, this Airtel Prepaid Plan offers only 168 GB data.
read this also-These Fitness Bands are cheap but useful, fit in the budget and the features are also superhit, as well as will give for 14 days
Other benefits
With this Airtel Recharge Plan, users will get free trial Amazon Prime Video Mobile Edition, Apollo 24|7 Circle benefits for 3 months, Airtel Xstream Premium, Free Hellotune, Free Wink Music, 1 year free Shaw Academy course and FasTag Get a cashback of Rs.100 on Rs.

read this also-Old iPhone got slow? Make this small change in settings, your Apple iPhone will start working at rocket speed
Reliance Jio Plan
For the information of you people, let us tell you that Jio does not have any plan with 4 GB data per day and the company's daily data plan is Rs 99 cheaper than Airtel 698 plan.

#Jio #Airtel #compete #Plan #free #Zee5 #336GB #data #Zee5 #year #compete #vodafone #idea #plan