hemant soren controversial comments on bhojpuri: hemant soren ka bhojpuri ko lekar vivadit bayan garmayi siyasat bjp ne kia karara palatwar
Highlights
Political upheaval due to Hemant Soren's statement regarding Bhojpuri-Maghi language
Jharkhand CM said – Magahi-Bhojpuri not regional language but external language
Will not allow Biharisation of Jharkhand under any circumstances: Hemant Soren
Raghuvar Das said – Hemant Soren's new policy is 'divide and rule'
Ravi Sinha, Ranchi
The controversy over planning and local policy in Jharkhand was not yet over. Meanwhile, the statement given by Chief Minister Hemant Soren regarding Bhojpuri and Magahi language has caused a political upheaval. Hemant Soren said in an interview to a media organization, 'The fight that the tribal society has fought for a separate state of Jharkhand, it has fought because of its regional and tribal language, and not because of Bhojpuri and Hindi. They will not allow Biharisation of Jharkhand under any circumstances. Those who speak Magahi or Bhojpuri, they are Dominated Persons.' His statement has been strongly opposed by the opposition parties.
Hemant Soren said – Those who speak Magahi-Bhojpuri are Dominated Persons
CM Hemant Soren while making controversial remarks said that during the Jharkhand movement, by keeping feet on the chest of the agitators, they were abused in Bhojpuri language while looting the respect of women. Magahi and Bhojpuri are not regional languages ​​but external languages.
The Chief Minister also said that those who speak Magahi or Bhojpuri, they are Dominated Persons. All are under the feet of those who remain strong. Some people may have learned to speak Magahi or Bhojpuri language after living with these people, but it is not the language of Jharkhand. The opposition BJP has retaliated on this statement of the Chief Minister of Jharkhand.
Also read: – Ruckus on Namaz room: Speaker angry at the uproar of BJP MLAs, said – do not make the house a footpath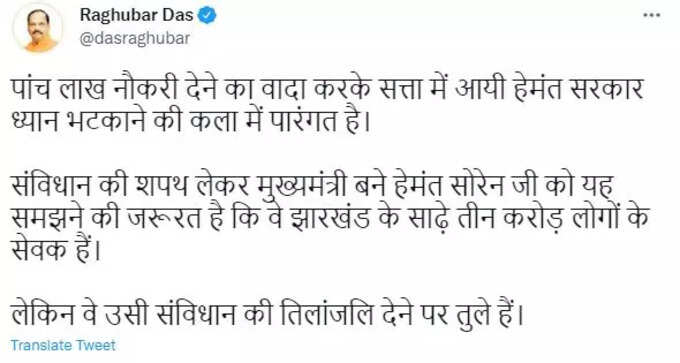 Raghuvar Das said – Hemant Soren's new policy is 'divide and rule'
Former Jharkhand Chief Minister and BJP National Vice President Raghuvar Das said that Chief Minister Hemant Soren's new policy is 'divide and rule'. He said that childish leadership is working in the great Jharkhand today. This statement of the Chief Minister towards Bhojpuri-Magahi speaking people is sad. Those who voted for his alliance must be feeling sad today.
Jharkhand Assembly Monsoon Session: Jharkhand Health Minister Banna Gupta reached the assembly by driving an auto, know the reason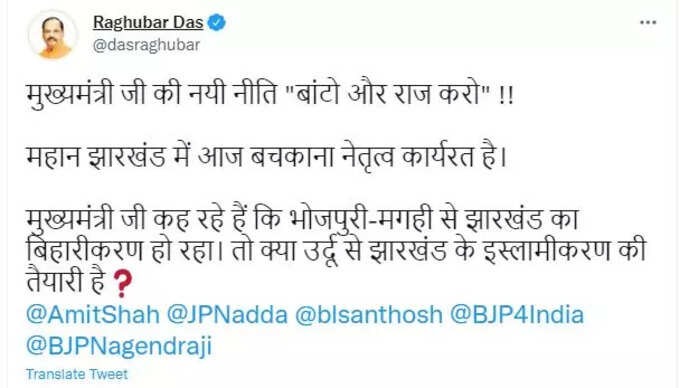 Former CM asked- Is there a preparation for Islamization of Jharkhand from Urdu
Raghuvar Das tweeted that Hemant Soren feels Bhojpuri and Magahi as foreign languages, but Urdu seems to be his own. Hemant Sarkar has insulted first Hindi-Sanskrit and now Bhojpuri-Maghi. The Chief Minister is saying that the Biharization of Jharkhand is happening from Bhojpuri-Maahi. So is there preparation for Islamization of Jharkhand from Urdu? Hemant Sarkar, who came to power by promising five lakh jobs, is well versed in the art of diverting attention, hence playing the game of diverting attention from issues. He said that Hemant Soren, who became the Chief Minister by taking the oath of the Constitution, needs to understand that he is the Chief Minister of three and a half crore people of Jharkhand. But they are bent on giving up the same constitution.
BJP spokesperson asked this question to the ruling parties on CM's statement
BJP state spokesperson Kunal Shadangi tweeted and questioned all the ruling parties that CM Hemant Soren is against Bhojpuri and Magahi speakers, do they agree with them. From which Rajdharma is expected, they are engaged in humiliating the whole society on the basis of any incident or individual. Apart from the BJP, many other people have also started objecting to the Chief Minister's statement through social media.
#hemant #soren #controversial #comments #bhojpuri #hemant #soren #bhojpuri #lekar #vivadit #bayan #garmayi #siyasat #bjp #kia #karara #palatwar