hamirpur me mahila se chedkhani
Hamirpur
In Hamirpur district of Uttar Pradesh, a female employee of a junior high school school found it very costly to oppose the molestation. The miscreants burnt the woman worker's car by pouring petrol. On Wednesday, a police team was sent to the spot to investigate the matter on the basis of the incident. The woman worker's family is in panic.
A woman from Dhanauri village of Rath Kotwali area of ​​Hamirpur district is working as an employee in a junior high school school located in Akauna village. She is also a widow. Some distance away from the village, she used to go on foot for duty. The woman worker alleged that while coming to school, Pappu and Jairam Lodhi of the village used to molest her by stopping the road every day. When he refused to molest, the rioters blew up his car parked at the door of the house by pouring petrol. The front part of the car was completely burnt in the fire.
The woman worker said that the incident was reported to UP-112. Then Dabang ran away from the spot threatening the entire family. This lady worker is the mother of two children. The family is in panic after the incident. On Wednesday, the woman worker gave a written complaint about the incident to Kotwali. The woman worker told that it is becoming difficult to get a job due to the bullies of the village.
Police team started investigation of the case
Inspector Rajesh Chandra Tripathi of Rath Kotwali said on Wednesday that a complaint has been received about the incident. Sub-Inspector and constables of Kotwali have been sent to the spot to investigate the matter. He said that further action would be taken after the investigation of the incident.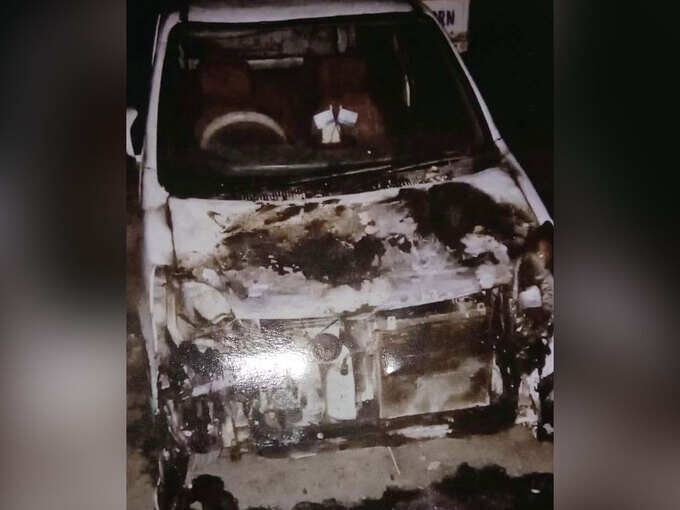 #hamirpur #mahila #chedkhani