Gujarat Cabinet Expansion: Gujarat Cabinet News: Controversy erupts over changes in entire cabinet in Gujarat, angry MLA reaches Vijay Rupani's house, swearing-in postponed
Highlights
Vijay Rupani resigned from the post of CM in Gujarat on Saturday
After Vijay Rupani, there was discussion on making Nitin Patel the CM
BJP High Command appointed Bhupendra Patel as the new CM of Gujarat
New faces are to be included in new CM's cabinet, but controversy before swearing-in
Ahmedabad
After making Bhupendra Patel the new Chief Minister in Gujarat, there is a ruckus in the BJP. The new CM's cabinet was to be sworn in on Wednesday but that has been postponed. Banners put up for swearing-in have been torn. However, everything is being claimed by the party and it is being said that the swearing-in will be held on Thursday at 1.30 pm.
Bhupendra Patel has taken oath as the new CM of Gujarat. Now his new cabinet is to be prepared. There was already speculation in the party that there was a dispute over the cabinet. It is also being said that Deputy CM Nitin Patel can be removed from the post and made Governor of someplace.
torn poster banner
Gujarat BJP spokesperson Yamal Vyas had told that the names of the new ministers have not been announced yet, these ministers will take oath after 2 pm in the capital Gandhinagar. Poster banners were put up here. Preparations were made for the swearing-in but a dispute arose. Poster-banners were torn down.
Why was BJP 'forced' to remove Vijay Rupani in Gujarat?
Bhupendra Patel took oath on Monday
Only Bhupendra Patel (59) took oath on Monday after Vijay Rupani's abrupt resignation from the chief minister's post last Saturday. Patel was unanimously elected the leader of the BJP Legislature Party on Sunday and was sworn in as the 17th Chief Minister of the state by Governor Acharya Devvrat in Gandhinagar on Monday.
ongoing meetings
Bharatiya Janata Party's Gujarat unit chief Bhupendra Yadav has been holding frequent meetings in Gandhinagar for the last two days to decide the names of people to be included in the new cabinet.
There is speculation that Patel will induct many new faces in his cabinet and that many old leaders may have to clear space for younger leaders. Controversy has broken out here regarding this.
Anandiben's special is Bhupendra Patel
Bhupendra Patel is considered close to Anandiben Patel, the former Chief Minister of Gujarat and the current Governor of Uttar Pradesh. This is also believed to be one of the reasons behind making him the Chief Minister.
Elections in Gujarat to be held in December 2022
In such a situation, when the state assembly elections are expected to be held in December 2022, the BJP has reposed faith in Patel, a Patidar, to win the election. In the 2017 assembly elections, the BJP won 99 out of 182 seats in the state assembly, while the Congress got 77 seats.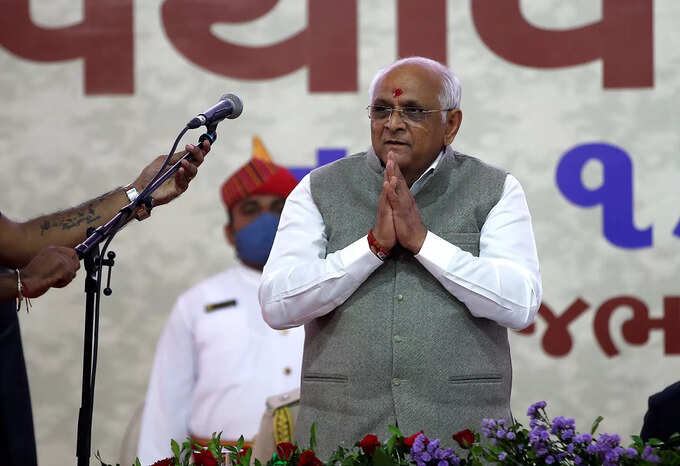 Bhupendra Patel
#Gujarat #Cabinet #Expansion #Gujarat #Cabinet #News #Controversy #erupts #entire #cabinet #Gujarat #angry #MLA #reaches #Vijay #Rupanis #house #swearingin #postponed