Fault in covid vaccination: 20 people got one dose covishield and second dose covaxin in siddharthnagar
Highlights:
Negligence in Kovid vaccination in Siddharthnagar, U.P.
20 people were vaccinated in the first and second doses
An atmosphere of panic among the villagers who have been vaccinated
No one has had any health problems so far
Intezaar Haider, Siddharthnagar
During the ongoing Kovid vaccination in Siddharthnagar district of Uttar Pradesh, major negligence of health workers has been revealed. Some people have been given the first dose of Kovishield and the second dose of Kovaxin. Because of this, people who have been vaccinated are scared. The whole matter is of primary health sector.
In another village, including Oudahi Kalan, about 20 people were given the first dose of the vaccine by Kovishield. After this, on May 14, while applying the second dose, the health workers applied covaccine with great carelessness. As soon as this information was received, there was a stir in the department. Everyone started accusing each other of this mistake. At the same time, when the people who got the vaccine got information about this, they were also frightened. However, no one has had any health related problems even after the introduction of the cocktail vaccine.

Corona warriors news: student becomes 'masked girl', doing some help to defeat corona
Different doses were applied to them
Malati Devi, Chedilal, Sanehi, Shahabuddin, Mohammad Ikram Dhobi, Ram Sundar, Radheshyam Shukla, Belavati, Indra Bahadur, Ramkumar, Gopal, Munni, Anarkali, Chandravati, Somna, Ramkishore, Malati Devi, Ramprasad, Urmila, Nandlal Chaudhary Was given the wrong vaccine. All of them took the first dose of Kovishield on 2 April. After this, on Friday, May 14, he was given the second dose of the vaccine, but this time he was replaced with Kovicin instead of Kovishield.
The doctors will be very difficult to overcome, the boy made an amazing mask
CMO accepts negligence
In this case of departmental negligence, CMO Sandeep Chaudhary admitted that about 20 people have been negligently administered cocktail vaccine by health workers. Our team is keeping an eye on all these people. So far no problems have been seen in any person. We have formed an investigation team for this serious negligence. As soon as the report comes, strict action will be taken against those guilty employees.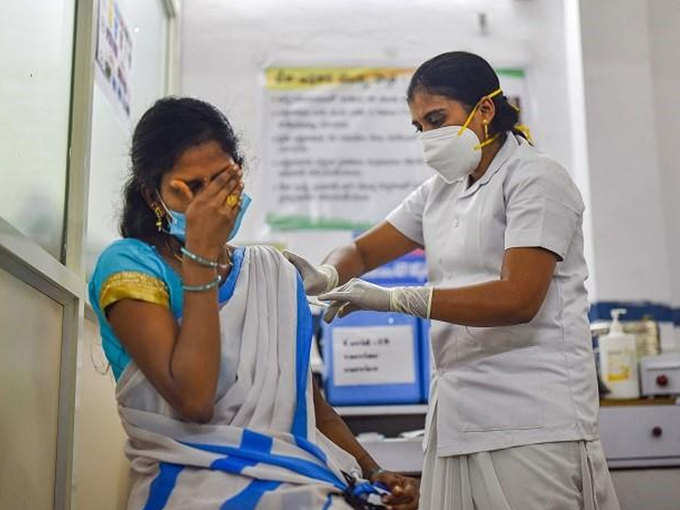 Negligence in vaccination
#Fault #covid #vaccination #people #dose #covishield #dose #covaxin #siddharthnagar