fan lying on rohit feet: A Rohit Sharma fan breached security and ran on the ground towards his idol and tried to touch his feet during the second T20I match between India and New Zealand, The fan came and lied flat on the ground with hands joined but Wasn't able to touch Rohit's feet: 2nd T20
New Delhi
During the second T20 match between India and New Zealand, a fan of Indian cricket team captain Rohit Sharma crossed all limits of passion. This fan of 'Hitman' broke the security and suddenly ran in the field. Then went to Rohit Sharma and lay down.
The openers were a bit hesitant to see this craze. He requested the fan not to do this and get up. This fan of Rohit lay down on the ground with folded hands. However, he could not touch Rohit's feet.
Seeing the security coming towards him, he immediately stood up and ran again and sat in the audience. Many people captured this moment on camera.
This is not the first time that a fan has shown such desperation to touch or go near Rohit. Even before this, on many occasions, Rohit's fans have broken the security cordon and entered the ground to meet him.
Rohit Sharma and KL Rahul's scintillating half-centuries helped India beat New Zealand by seven wickets three overs ago in the match played in Ranchi on Friday.
With this win, Team India has also taken an unassailable 2-0 lead in the three-match T20I series. The third match of the series will be held at the Eden Gardens in Kolkata on Sunday, which has now become a mere formality.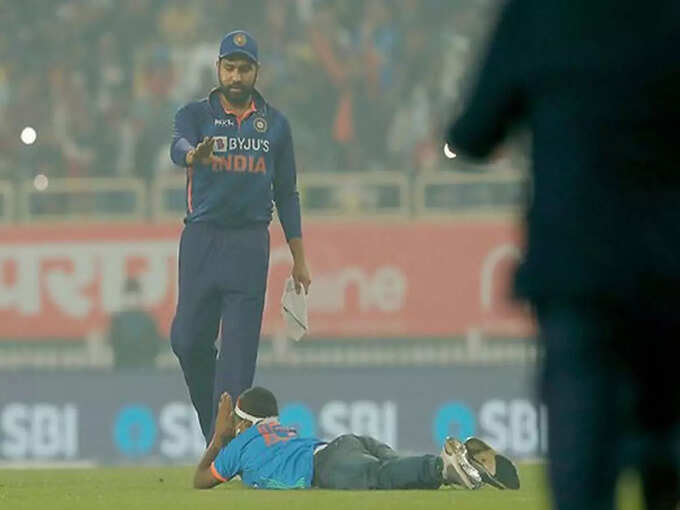 #fan #lying #rohit #feet #Rohit #Sharma #fan #breached #security #ran #ground #idol #touch #feet #T20I #match #India #Zealand #fan #lied #flat #ground #hands #joined #Wasnt #touch #Rohits #feet #2nd #T20