daughter worship on daughters: daughter worship on daughters day, feet raised, aarti was done, name plates of daughters names installed on 80 houses of village in betul : Name plates with the names of daughters installed on the houses
Highlights
Big respect to daughters in Betul district of MP on Daughters Day
Name plates with the names of daughters installed on 80 houses of the village
The identity of the houses in this village will now be in the name of daughters.
The daughters of the village looked giddy after receiving the respect
Betul
On Daughters Day News, people are proud of the daughter. From social media to news, the achievements of daughters are being praised. But there is a village in Betul district of MP, where daughters are worshipped. In this village, the names of the daughters are written in front of the houses. The houses here are identified by the names of daughters. An NGO has taken a unique initiative in this regard.
This organization is running a campaign to identify the house in the name of the daughter. Under this campaign, name plates with the names of daughters were installed in 60 houses of the village. Now these houses will be identified in the name of daughters. Betul social worker Anil Yadav started the campaign regarding this. After the birth of the daughter, they had celebrated happiness in the house. After this, the campaign was started in the name of daughters, Ghar Ka Naam Ho. Today Anil's campaign has reached 14 states of the country.

PM Narendra Modi will meet India's daughter Kamala Harris, will remember that 63-year-old emotional moment
According to Anil, his campaign has knocked in 22 districts of Madhya Pradesh. Anil says that apart from Betul city, his campaign has reached 100 villages of the district and in these villages the house is identified by the name of daughters.

The young man reached Khajrana Ganesh temple before time, when the guard stopped, he said that I am 'son-in-law' of the home minister of MP, case registered
In fact, a unique campaign has been started in the village to give respect to the daughters. Under this campaign, name plates with the names of daughters have been put in front of the houses where there are daughters. There are about 100 daughters in this village of 80 houses. This is being done to give these daughters a separate identity in the society. Daughters are also happy to have a name plate in their name because now their house will not be asked in the name of their father or brother but by their name.

Shivraj Singh Chauhan opened treasury for daughters, will deposit 30 thousand in the account with birth

The festival is celebrated to name the houses after the daughters. First, the aarti of the daughters is done by applying pakhare and tilak to the feet of the daughters. After this, the daughters were given nameplates in their names. Along with innocent daughters, elder daughters were also happy with name plates in their hands. During this, all the daughters roamed in the village in the form of a rally and their name plates were installed after going from house to house.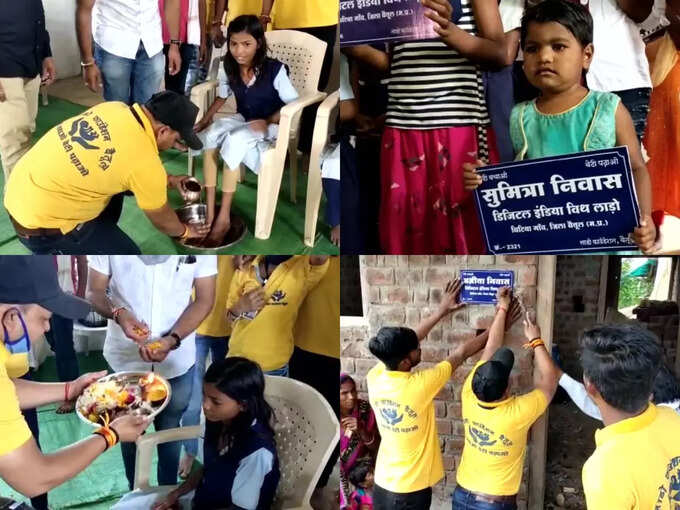 #daughter #worship #daughters #daughter #worship #daughters #day #feet #raised #aarti #plates #daughters #names #installed #houses #village #betul #plates #names #daughters #installed #houses