corona cases india latest updates: Corona Cases Decreased Explained: New delhi corona cases in several states including UP, Maharashtra
Highlights:
New corona cases reduced in states like Maharashtra, UP, Delhi, Karnataka, Kerala
In these states, the Daily New Kovid case fell on Sunday after a long time
Kovid dead in Delhi since April 29
Number of dead bodies brought for funeral
New Delhi
There is a lot of good news from states like Maharashtra, UP, Punjab, Delhi, Gujarat, Karnataka, Kerala, Chhattisgarh. There was a decrease in the new Corona case on Sunday, which is a record for the second wave. On Friday, the Daily Corona case figure had crossed 4 lakh, but on Sunday it fell to 3.68 lakh. On Saturday, 3.92 lakh new Corona cases were reported in the country.

Reduced cases due to less testing? Learn answer
Many people are witnessing the fall in the new Corona case on Sunday with less testing. The reality is that there are fewer tests on Sundays, but the other reality is that most reports of samples taken on Sundays come on Mondays the next day. This is the reason that historically every Monday the figures for the new Corona case are slightly lower. Last Sunday also 15 lakh samples were taken while on an average 18 to 19 lakh samples are taken from Monday to Saturday. More than 18 lakh samples were taken on Saturday, whereas on Thursday and Friday more than 19–19 lakh samples were taken, which is the record so far.
However, how much testing is behind the low corona positive cases, but it is certain that the daily carona case fell for two consecutive days on Saturday and Sunday. This had not been seen for a long time. Not only this, the number of active cases has increased by less than 1 lakh since four days. On Sunday, there were only 63,998 active cases, the lowest in 20 days. Between 13 and 28 April, active cases were increasing by more than 1 lakh every day. It was the worst fortnight in terms of Corona for 15 days. During this period, 48 lakh new corona cases were reported while 35 thousand patients died.

Corona Peak in Delhi Maharashtra: Did Corona's Peak Pass in Delhi, Maharashtra, Punjab? Government said- these states including Bihar are giving tension on the signs of stability
These states increased enthusiasm
Maharashtra has seen a decline in the new Corona case for the last few days, but there is good news from Kerala, Delhi, Uttar Pradesh and Karnataka as well. The best performance in all of this has been Uttar Pradesh, where there were a lot of daily new cases in the first two weeks of April, but now the condition is stable. On April 18, 30 thousand new Kovid cases came in Uttar Pradesh and almost the same figure remained for the next two weeks. Experts started feeling that Uttar Pradesh should not beat Maharashtra even in the case of the new Corona case. There was a possibility of 50 to 60 thousand new corona cases coming up every day, but now this apprehension seems to be vanishing.

Reduced cases in Mumbai, but death does not stop
If it comes to any one city, then in this case, the biggest hope is raised from Mumbai. A month ago, there were more than 11 thousand new corona cases in one day, whereas on Monday only 2,624 cases came. However, the number of daily deaths remained high there and 78 patients died on Monday. Here, for the last one month, there has been a slight break from a few days due to the continuous increase in the number of Kovid dead in all the crematoriums of Delhi.

Decreasing deaths in Delhi
In the new wave of Kovid, it was first noticed on April 30 that the number of Kovid dead in Delhi is 0.83 percent less than the previous days. On the following day, the number of Kovid dead was further reduced. The steady reduction in the number of Kovid deaths has been described by MCD Public Health doctors as a good sign and now that there is hope of relief from infection.

Deadbody now reduced by 11.4%
According to officials, 717 deadbodies were cremated in all cremation grounds and cemeteries on 29 April. The next day, 711 Kovid dead were cremated on 30 April. On May 1, 697 were cremated in all the crematoriums and on May 2, dead bodies of 620 Kovid dead were cremated. Thus on April 30, for the first time, 6 percent fewer deadbodies came to the crematoriums for the cremation. It had 1.96 percent the next day and 11.04 percent less deadbody on 2 May.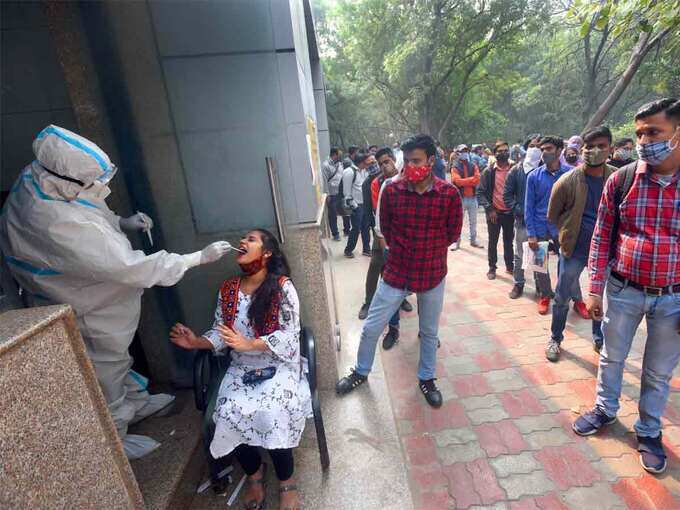 Token photo.
#corona #cases #india #latest #updates #Corona #Cases #Decreased #Explained #delhi #corona #cases #states #including #Maharashtra