child writes a letter to cji: In the war against Corona, the 5th class student wrote a letter to the CJI saying 'Thank you', the Chief Justice gave a heart-wrenching answer: In the war against Corona, a 5th class student called CJI Wrote a letter to 'Thank you', the Chief Justice gave a heart-wrenching answer
New Delhi

A Class 5 student from Kerala has written an emotional letter to the Chief Justice of India (CJI). In this, he has thanked the Supreme Court for its role in the war against Corona. The student has also attached a picture with the letter. In this, a judge is shown attacking Corona. The CJI, who was enraged by this letter, has also sent a letter to the girl and wished her a bright future.
Lidvina Joseph, a Class V student from Kerala, has written a letter to Chief Justice of India NV Ramana praising the Supreme Court for effectively intervening in the fight against the COVID-19 pandemic and saving lives.



Free vaccine to all, did the government really decide after the intervention of the Supreme Court?
What did the girl write in the letter?
Lidvina Joseph is a student of Kendriya Vidyalaya in Thrissur. In his letter he has portrayed the discharge of duties on behalf of the apex court. Along with this, a picture has also been attached to it, in which a judge is shown attacking the corona virus.
Joseph has said in the letter, 'I was very concerned about the deaths due to Corona in Delhi and other parts of the country. I came to know from the newspaper that the Hon'ble Court has effectively intervened in the fight against Kovid-19 on the suffering and deaths of the common people.
Joseph said, 'I am happy and proud that the honorable court has ordered oxygen supply and saved many lives. I understand that the Hon'ble Court has taken effective steps to reduce the COVID-19 and mortality rate in our country especially in Delhi. I thank you for this. Now I feel very proud and happy.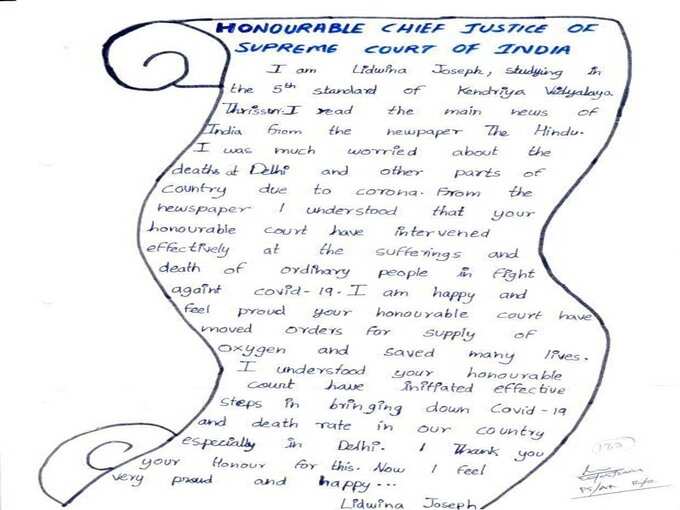 CGI wrote a letter in response
The lucky girl got a reply from the Chief Justice of India and best wishes for her 'beautiful letter'. The Chief Justice wrote a counter letter wishing the little girl success.

Supreme Court News: Work is going on on how to help the children orphaned by Corona through PM Cares: Center
The Chief Justice said, 'I have received your beautiful letter. Also found is a heartwarming portrait depicting a working judge. I am really impressed with the way you have kept an eye on the happenings in the country and the concern you have shown for the well being of the people in the wake of the pandemic.
Wishing the girl success, she said, 'I am sure you will grow into an alert, aware and responsible citizen, who will contribute immensely in nation building.'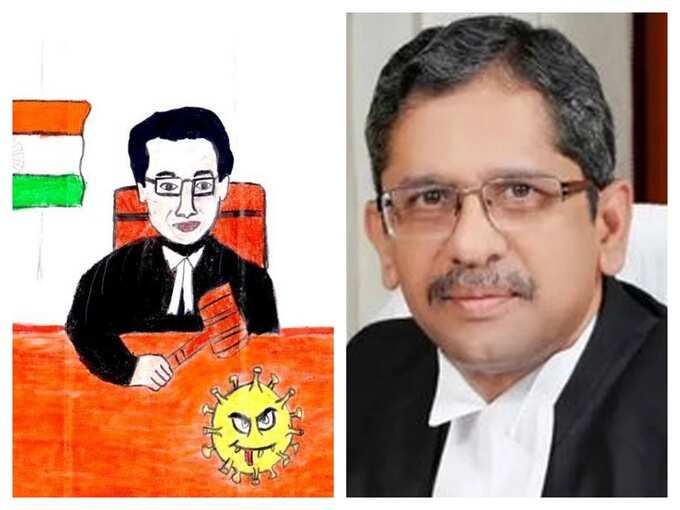 #child #writes #letter #cji #war #Corona #5th #class #student #wrote #letter #CJI #Chief #Justice #gave #heartwrenching #answer #war #Corona #5th #class #student #called #CJI #Wrote #letter #Chief #Justice #gave #heartwrenching #answer