Chief Minister Yogi Adityanath Ayodhya Visit Updates: Chief Minister Yogi Adityanath reached Ayodhya
Ayodhya
Chief Minister Yogi Adityanath is on Ayodhya tour. On reaching Ayodhya, from the airport, he went straight to the educational complex of the medical college where he inspected the under-construction campus and met the students pursuing MBBS. Chief Minister Yogi reached Yatri Niwas of Tourism Department. In this sequence, Yogi will also meet the prominent saints of Ayodhya.
CM Yogi said that Uttar Pradesh will have maximum number of medical colleges. In the coming time, Ayodhya will get health services according to the people's representatives. Ayodhya is going to make a new place on the global map. For that we have to be ready in every field. Ayodhya also became the focal point of health facilities.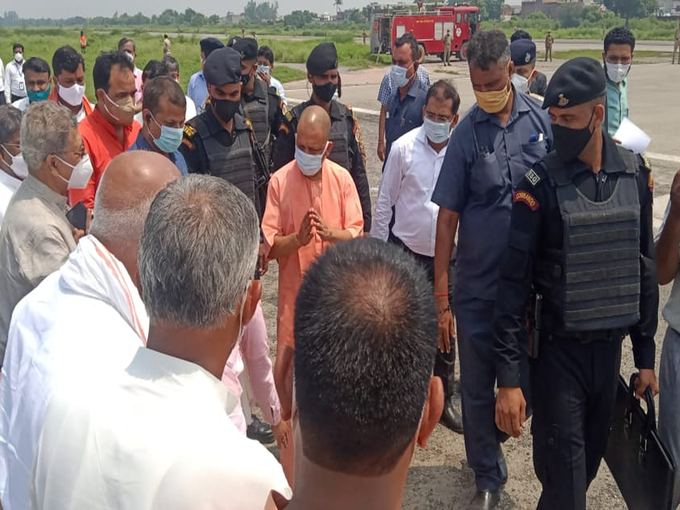 32 new medical colleges were built in 4 years – CM Yogi
CM Yogi said that in this session 14 new medical colleges have been prepared with the help of Government of India. While targeting the earlier governments, CM Yogi said that only 12 medical colleges have been built in 69 years, while 32 new medical colleges have been built during 4 years. He said that there are 16 districts where there is not even a single medical college, they are also coming up with a policy for that. Going to the Medical Council to establish a medical college there.
CM left for Sugriva Fort after leaving Ram Janmabhoomi
Chief Minister Yogi Adityanath left Ram Janmabhoomi and left for Sugriva Fort. Leaving the vehicles of CM Fleet on the main road, Sugriva went to the fort. Sugriva went to the fort only with the necessary fleet of security. He met Jagatguru Vishwesh Prapannacharya, the Mahant of Sugriva Fort. After meeting the Pithadhishwar of the Chief Minister Sugriva Fort, Maniram Das will go to the cantonment.
Will also meet Mahant Nritya Gopal Das
Maniram Das Cantonment will also visit from Yatri Niwas to inquire about the health of Mahant Nritya Gopal Das, President of Shri Ram Janmabhoomi Teerth Kshetra Trust. After this, Chief Minister Yogi Adityanath reached Ram Janmabhoomi Parish. He had darshan and worship of Ram Janmabhoomi. After meeting Mahant Nritya Gopaldas, CM Yogi will leave for Lucknow.

#Chief #Minister #Yogi #Adityanath #Ayodhya #Visit #Updates #Chief #Minister #Yogi #Adityanath #reached #Ayodhya