bjp slams mamata benerjee behaviour: BJP on Mamata Banerjee: BJP angry over Mamta for waiting PM Modi and leaving the meeting midway ethos
Highlights:
PM reviews meeting to assess damage from Yas storm
Mamta arrived late, left even after giving report, BJP targeted
BJP Chief Nadda, Home Minister Shah and Rajnath Singh also condemned this attitude
New Delhi
BJP has been infuriated by Chief Minister Mamata Banerjee's late arrival and leaving the meeting shortly after the meeting of Prime Minister Narendra Modi over the loss in West Bengal due to cyclonic storm Yas. BJP president JP Nadda has termed it a murder of constitutional limitations. At the same time, many Union ministers have also opened a front against Mamta Banerjee regarding this. Home Minister Amit Shah has accused Mamata that he has set his ego above public welfare. At the same time, Rajnath Singh has described it as shocking.
Home Minister Amit Shah tweeted, "Today's behavior of Mamta didi is unfortunate. Yas storm has affected many common citizens and the need of the hour is to help those affected. Unfortunately, Didi placed her ego on the welfare of the people and this is what her petty behavior of today shows.


Mamata Banerjee's 'misbehavior' to the government, said – are doing harm to the people of Bengal by rude behavior
Nadda calls Mamta's behavior a murder of constitutional dignity
BJP president JP Nadda has described Mamata Banerjee's behavior as a murder of constitutional dignity and culture of federalism. He alleged that Chief Minister Mamata Banerjee was absent from Prime Minister Narendra Modi's meeting in West Bengal to review the damage caused by cyclone 'Yas' and in doing so had "murdered constitutional dignity and cooperative federalism".
In a series of tweets, Nadda said that Prime Minister Modi follows the principles of cooperative federalism as 'very sacred' and is actively working with all the Chief Ministers to give relief to the people, leaving behind the party sentiment but in unexpected ways. Mamta Banerjee's policy and petty politics have again troubled the people of Bengal.

Cyclone yaas: Mamta Banerjee met PM Modi after waiting for half an hour, submitted report of loss and went away
Rajnath wrote – CM and PM are institutions not individuals
Similarly, Defense Minister Rajnath Singh also tweeted that Mamata Banerjee's behavior was shocking. He wrote, 'Today's developments in West Bengal are shocking. The Chief Minister and the Prime Minister are not individuals but institutions. Both take the responsibility of taking oath of public service and pledge of allegiance to the Constitution. In another tweet, the Defense Minister said, 'This kind of behavior with the Prime Minister who came from the sense of giving assistance to the people of Bengal in the time of disaster is painful. This is an unfortunate example of putting political differences above the resolution and constitutional duty of public service, which is also hurting the basic spirit of the Indian federal system. '

In fact, Prime Minister Narendra Modi on Friday held a review meeting in Kalai Kunda, Western Medinipur, to review the damage caused by Hurricane Yas. West Bengal Chief Minister Mamata Banerjee and the Chief Secretary reached the review meeting 30 minutes late even though they were in the same premises. After coming to the meeting, Mamata Banerjee handed over documents related to the impact of the cyclone and left the meeting, saying that she had to attend other meetings.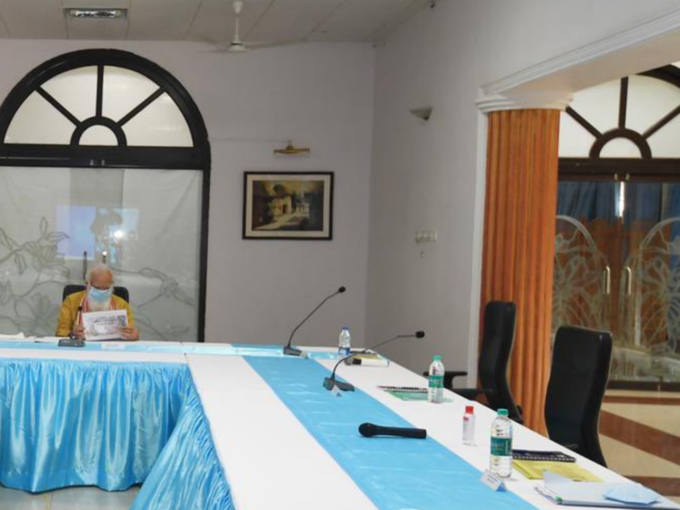 Mamta's chair remained empty during the meeting.
#bjp #slams #mamata #benerjee #behaviour #BJP #Mamata #Banerjee #BJP #angry #Mamta #waiting #Modi #leaving #meeting #midway #ethos