bihar news: yaas cyclone bihar jharkhand live weather news updates and forecast
Highlights:
Weak Yas also showing strength in Bihar and Jharkhand
Hurricane Yas effect seen from Patna to Ranchi
The car of the procession got washed away in the rain water in Jharkhand
4 districts of Bihar record record rainfall
Patna:
After wreaking havoc in Odisha, Yas storm has weakened after coming to Bihar. But the weak cyclonic storm is also showing a lot of impact in Bihar. The situation is that there has been a power failure in the rural areas of the capital Patna for the last 18 hours. Water logging conditions have arisen in many areas.
Record rain in many places in Bihar
In 4 districts of Bihar, the Meteorological Department has released the data of rain due to the impact of Yas storm. Seeing these figures, it is clear that the impact of yas in these districts has led to record rains. These rains have been recorded from 8:30 AM on 27th May to 5:30 AM on 28th May. The number one in this is Gaya district where 114 mm of rainfall has been received. Purnia is at number two, where 92 mm of rain has been recorded during this period. At the third place is the capital Patna, where 86.2 mm of rain has been received. Bhagalpur is at number four, 32 mm of rain has been recorded here.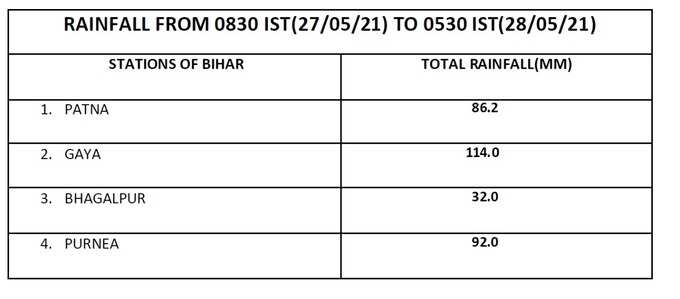 Till the dry river of Gaya
There is a famous saying about Gaya district of Bihar. The first is a mountain without trees (Ramshila) and the second is a river without water (Falgu). But due to the impact of the Yas storm, it rained so much that even the river Falgu, which remains dry, has become in spate.
Meteorological Department forecast for today
According to Patna Meteorological Center Director Anand Shankar, 'Due to the seasonal impact of this low pressure, light to moderate rainfall is expected in the state during the next 24 hours. Whereas, heavy rain is forecast at one or two places. During this time, the maximum wind speed will be 30 to 40 km / h. Along with this, there is a possibility of falling lightning in the next 24 hours in the south and eastern parts of the state and some places in the central part of the state. Shankar said that due to rain, conditions like water logging or flooding can occur in the lower area. Therefore the citizens of the state are advised to take due precautions.


Cyclone Yaas News: Hurricane Yas affected in Nawada, rain in the district since 11 am
Impact on flights in Bihar
Due to the impact of cyclone 'Yas' in Bihar, light to moderate rains occurred at various places in the state with flights and rail traffic being affected on Thursday. Flight operations at the airport here were suspended in the evening due to heavy rains in Patna city due to the cyclone. Airport director Bhupesh Negi said four flights were canceled due to suspension of air traffic. He tweeted that in view of the weather conditions due to cyclone 'Yas', it has been decided that flight operations from Patna Airport will be suspended till 9 am on Friday 28 May. The situation will be reviewed before a decision is made on resuming operations.

Jharkhand Cyclone: ​​Four people saved their lives by jumping somehow in Latehar

Rail impact on Bihar-Jharkhand
The East Central Railway (ECR) has temporarily canceled the operations of some special trains, taking protective measures in view of cyclone 'Yas'. ECR Chief Public Relations Officer Rajesh Kumar said that a total of 15 such trains have been canceled.


Haradih-Budhadih bridge over the Kanchi river in Ranchi was demolished, construction was done three years ago after spending crores of rupees, questioning the quality
Meteorological forecast
Anand Shankar, Director, Meteorological Center, Patna said that the very severe cyclone 'Yas' has weakened after crossing the Odisha-West Bengal coast on May 26. Presently it is located over Jharkhand and Bihar as a low pressure area. It is expected to weaken further and move in a northwest direction. On Friday, it will turn into a low pressure area over Bihar and adjoining eastern Uttar Pradesh.
#bihar #news #yaas #cyclone #bihar #jharkhand #live #weather #news #updates #forecast