bihar news: vigilance raided whereabouts of mining minister janak ram osd mrityunjay kumar
Patna
The monitoring department of Bihar has started a major action against illegal sand mining. In the early hours of Friday, a special team of Vigilance Department has put raids together in three districts of Bihar.
Raid on the premises of OSD of Mining Minister
The Special Vigilance Unit of the Vigilance Department has simultaneously raided three locations of Mrityunjay Kumar, OSD to Bihar Mining Minister Janak Ram, his brother Dhananjay Kumar and his female friend Ratna Chatterjee. According to this letter of the monitoring department, raids have been put together in Patna, Katihar and Araria. See this letter of monitoring department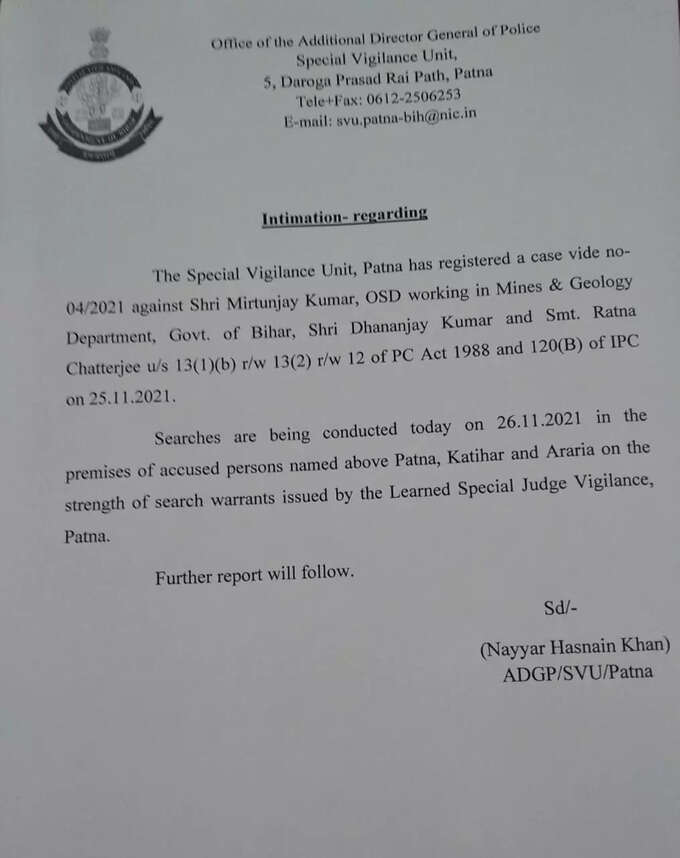 Millions of rupees found at the house of OSD's female friend
The team has recovered Rs 15 lakh in cash from the house of OSD's lady friend Ratna Chatterjee in Araria. Not only this, evidence of huge cash transactions has been found from the bank account. The Special Vigilance Unit of the Surveillance Department has also got property papers worth billions from Delhi to West Bengal, the capital of the country. Let us tell you that Janak Ram is the mining minister in Bihar from BJP quota.
#bihar #news #vigilance #raided #whereabouts #mining #minister #janak #ram #osd #mrityunjay #kumar