bihar news: indian railways increased 12 pairs of trains from maharashtra and gujrat to bihar: railways increased 12 pairs of trains from Maharashtra and Gujarat to Bihar
Highlights:
Passengers returning from Maharashtra and Gujarat to Bihar
Chances of getting reserve tickets increased, 12 pairs of trains were extended
If the train will open from Bhagalpur to Mumbai, then from Badodara to Danapur
Patna
Railways are not getting passengers on trains of many routes in the Corona era, while on the other hand, there are a lot of congestion in trains coming to Bihar from stations like Mumbai, Pune, Ahmedabad, Udhna, Bandra. In view of this, there has been an increase in the round of 12 special trains from the East Central Railway Management. This is likely to reduce the long waiting list significantly. It is a different matter that most of these trains are leaving with empty seats on their return from Bihar.
Udhana – Danapur Express trips also increased
09011-12 Udhna-Danapur Express is being operated from Udhna on May 3 and from Danapur on May 5. Train no 09413-14 Ahmedabad-Kolkata Ahmedabad special train will depart from Ahmedabad on May 5 and from Kolkata on May 8. 09453-09454 Ahmedabad-Samastipur Ahmedabad Special will depart from Ahmedabad on May 9 and Samastipur on May 12. 09049-09050 Mumbai Central-Samastipur will open from Mumbai Central on May 1, 3, 4 and 6 and from Samastipur on 3, 5 and 6 May.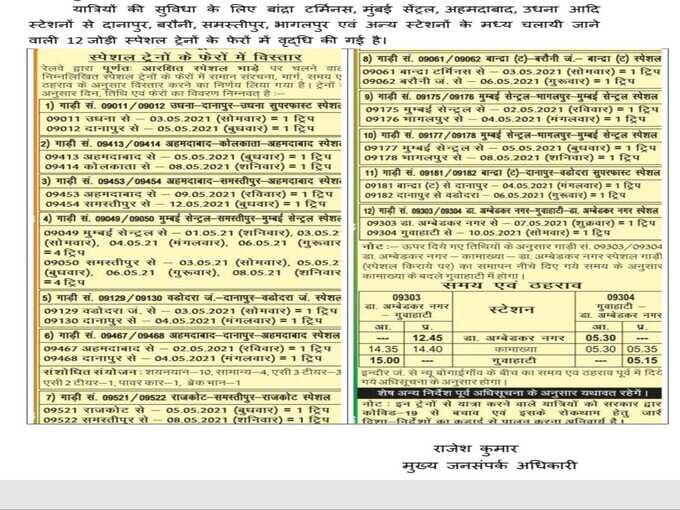 Vadodara-Danapur will also run more
Train no 09129-09130 Vadodara-Danapur-Vadodara will open from Vadodara on May 3 and from Danapur on May 4. 09467-68 Ahmedabad-Danapur-Ahmedabad is opening from Ahmedabad on May 2 and from Danapur on May 4. At the same time, train number 09521-22 Rajkot-Samastipur-Rajkot five will open from Rajkot and on May 8 from Samastipur. Similarly, 09061-09062 Bandra Terminal-Barauni-Bandra Terminal will open on 3 May from Bandra and 6 from Barauni. 09175-76 Mumbai Central-Bhagalpur Special is opening on 2 May from Mumbai and 4 May from Bhagalpur.


What has changed with Mamata's victory in Bengal, JDU's attitude, 'hot on my own, soft on my own' formula
Trains from Bhagalpur to Mumbai
While 09177-78 Mumbai Central-Bhagalpur-Mumbai Central will leave Mumbai on five and Bhagalpur on May 8. Simultaneously, 09181- 82 Bandra Terminal-Danapur-Vadodara Superfast will depart from Bandra at four and from Danapur on May 6. Train number 09303 -09304 Ambedkar Nagar-Guwahati Special will leave from Ambedkar Nagar and seven from Guwahati on May 10. All trains have reserved bogies. Already, passengers will have to board these trains taking reservations.
#bihar #news #indian #railways #increased #pairs #trains #maharashtra #gujrat #bihar #railways #increased #pairs #trains #Maharashtra #Gujarat #Bihar