bihar news: finally rebel former jdu mla manjeet singh agreed to not left nitish kumar gopalganj bihar : two days… four veteran leaders and then manjit singh agreed
Highlights:
Day… Four veteran leaders and then Manjit Singh agreed
Former MLA close to Nitish had announced to go to RJD
Nitish had a long conversation with his angry leader over the phone
Know why Nitish is so attached to his former MLA?

Gopalganj:
Manjit Singh, who is angry with JDU, has given up the idea of ​​joining RJD. But all this did not happen just like that. For this, the former Chief Minister of Bihar, Nitish Kumar had to launch an army of his ministers, former ministers and leaders from Patna to Gopalganj. However, now the displeasure of former JDU MLA from Baikunthpur Manjit Singh has gone away. He has now left again with the intention of starting the innings in JDU itself.
CM my political father- Manjeet
During this, former MLA Manjit Singh said that he had received a message from his political father Nitish Kumar. They want to talk to him in Patna. The former MLA said that he was running angry with the party along with the workers of his district and felt himself neglected by the workers. Now he will meet CM Nitish and put forward the issue of neglect of workers.


Bihar Politics: JDU launches donation collection campaign to fill party's empty treasury, money will be used for these works
Meanwhile, when he was asked whether he is still thinking of joining RJD, Manjeet said that he will sit and talk with CM Nitish Kumar. There, a new path will emerge.
JDU had agreed on the announcement of former MLA to go to RJD
Earlier on Thursday itself, Chief Minister Nitish Kumar launched an army of his ministers, former ministers and leaders to persuade Manjit Singh, former MLA of the ruling JDU. During this, many leaders including minister Lacey Singh reached the house of former Baikunthpur MLA Manjit Singh. Apart from him, former minister Jai Kumar Singh and former MLA Manjit Singh's close and relative Rana Randhir Singh also reached here to celebrate him. After this, Lacey Singh has come to Patna with Manjeet. However, the JDU ministers and leaders who reached the spot had to face heavy opposition from the local JDU workers.
Nitish had a long talk on the phone
On Wednesday, Manjit Singh met Tejashwi Yadav and announced that he would join the RJD on July 3. After this there was a stir in the JDU camp. Manjeet is angry with the party, everyone knew that but he is going to take such a big step.
There was an uproar as soon as I got this information. Immediately this information was given to CM Nitish Kumar. After this, he called Manjit Singh late last night and talked to him for several hours. After talks, the CM sent Food and Supplies Minister Lacey Singh to Devapur in Barauli to meet Manjit Singh.
Bihar News: Case against Mehbooba Mufti in Bihar, case reached Muzaffarpur court on charges of sedition
Lacy Singh took Manjeet to Patna
Nitish's minister Lacy Singh himself was sent to the front to persuade former and angry JDU MLA Manjit Singh. During this, Lacey Singh managed to persuade Manjeet to go to Patna and talk to Nitish. Food Supplies Minister Lacey Singh said that Manjit Singh has a father-son relationship with CM Nitish.
Bihar Politics: 'Nitish Kumar-Manjit Singh like father and son', minister Lacey Singh took angry Manjeet to Patna
He was in JDU earlier also and is still there today. The minister said that CM Nitish Kumar has sent him to meet him from Patna. According to Lacey, she is taking Manjeet from Gopalganj to Patna. Former minister Jai Kumar Singh also said that Manjit Singh is his brother. No one in the party has neglected him, but he is an important pillar of Gopalganj.
That's why Manjit Singh is angry
An angry Manjit Singh had recently announced to join Lalu's party RJD on July 3. Let us tell you that in the 2020 Bihar Assembly elections, Baikunthpur seat went to BJP's court. After this Manjeet had landed as an independent. Meanwhile, former Baikunthpur MLA Manjit Singh had given up the membership of JDU in the assembly elections. After this, he contested as an independent against BJP candidate and state vice-president Mithilesh Tiwari.


Muzaffarpur News : Third degree torture of real life caught on camera… Police removed skin in custody, what kind of human rights in Muzaffarpur?
There the RJD candidate defeated Mithilesh Tiwari of the BJP as Manjit Singh alone had cut the majority vote of the NDA camp. Manjit Singh is one of those leaders of JDU who have the ability to encircle any leader or the entire opposition on the basis of statistics. Apart from this, his father also has a very good relationship with CM Nitish Kumar. In such a situation, Nitish did not want that one of his considered strong cadre should go to Lalu's camp.
Input of Sunita Singh from Gopalganj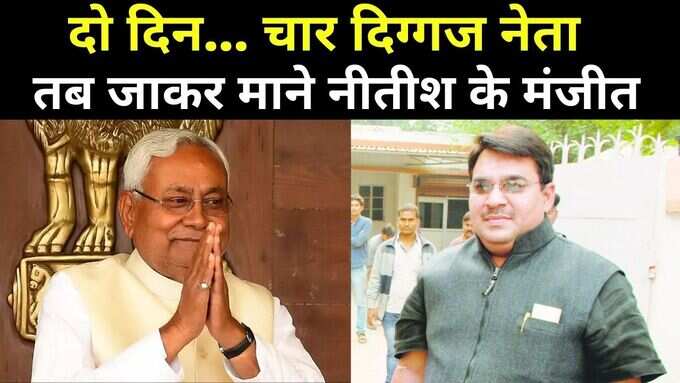 #bihar #news #finally #rebel #jdu #mla #manjeet #singh #agreed #left #nitish #kumar #gopalganj #bihar #days #veteran #leaders #manjit #singh #agreed