bhind police encounter criminals: bhind police encounter criminals fleeing car robbery from gwalior, two pistols recovered
Highlights:
Encounter of criminals fleeing by robbing a car from Gwalior
Shot in the leg of both the criminals, admitted to Jairogya Hospital in Gwalior
Police recovered the robbed car, two pistols were also found
Criminals had earlier fired on the police
Bhind
The miscreants who were robbing a car from Dabra area of ​​Gwalior had an encounter with the police on Monday night in Mehgaon area of ​​Bhind. There has been firing from both sides. In this firing, both the miscreants got shot in the leg. Police have seized a robbed car and two pistols from the possession of both miscreants. Along with this, the injured miscreants have been admitted to Jairogya Hospital in Gwalior for treatment. The reward was already announced on both the captured crooks.
In fact, on Monday night, miscreants of a person named Brijesh Tiwari robbed the car at the tip of the weapon in Dabra area. The miscreants also shot Brijesh who was in Brijesh's hand. As soon as the Gwalior Police got its information, the Gwalior Police started chasing the miscreants. The miscreants ran straight towards Bhind from Gwalior. Gwalior police immediately informed Bhind police about this. Bhind police blocked the National Highway as soon as the information of the miscreants was received.
Prachi of Gwalior increases country's value, qualifies for Tokyo Para Olympics
During this time, Mehgaon police reached the village of Bahua, looking for the miscreants, when the Mehgaon police saw the car of the miscreants. Seeing the police car, the miscreants started firing on the police. In response, the police also opened fire on the miscreants. Firing started from both sides. After firing for a while, the miscreants opened fire in the legs. Both crooks were injured by a bullet to the leg.
Dirty dirt in the toilet of Quartin Center, BJP MP did it by himself
Police went to the miscreants and seized two pistols from their possession. Along with this, the robbed car has also been recovered. The injured miscreants were immediately admitted to Jairogya Hospital in Gwalior for treatment. The names of the captured miscreants are stated to be Vicky Jakhodia and Prashant Jat. A reward of ₹ 10000 has already been announced in a case of murder on miscreants. Mehgaon police station has also registered a case of attempt to murder on both the miscreants.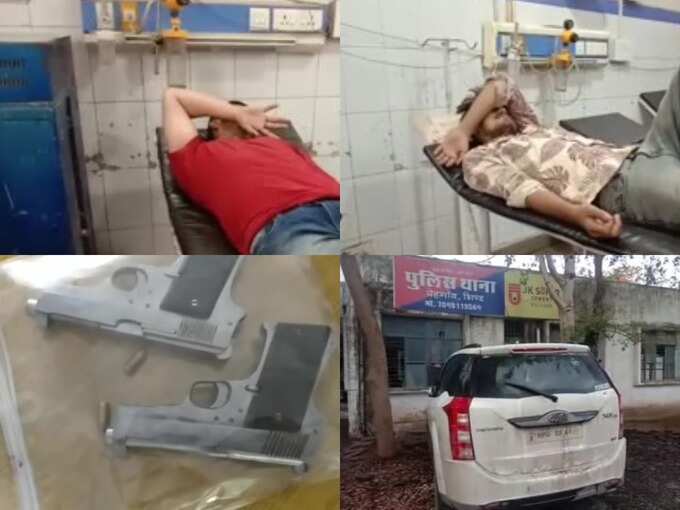 #bhind #police #encounter #criminals #bhind #police #encounter #criminals #fleeing #car #robbery #gwalior #pistols #recovered