baba ramdev ima controversy latest: complaint filed against baba ramdev in delhi, IMA filed complaint against baba ramdev in delhi
Highlights:
Police complaint filed against Baba Ramdev in Delhi
IMA General Secretary Dr. Jayesh Lele complained to Baba Ramdev
Accused of harming the medical community and the general public
New Delhi
The controversy between Baba Ramdev and the Indian Medical Association (IMA) after the statement on allopathy is not taking its name to a standstill. After a defamation notice of Rs 1,000 crore, the IMA has now filed a complaint against the yoga guru in Delhi. On behalf of the IMA, the Secretary-General, Dr. Jayesh Lele has filed this complaint.
In the complaint given in Delhi's IP State Police Station, IMA said that Swami Ramdev is raising doubts about the vaccine in the minds of people, obstructing the work of government employees. The complaint letter further states, 'Ramdev and his associates have done wrong work to harm the medical community and the general public. Those involved with Ramdev in this conspiracy should be investigated. An FIR should be registered in this regard.

IMA demands action on Baba Ramdev's statement of allopathy, now Patanjali clarifies
Significantly, videos of Swami Ramdev giving objectionable statements on allopathy and doctors have recently gone viral on social media. Since then, the Indian Medical Association has been continuously attacking Ramdev and accusing him of spreading confusion.
Recently, the IMA has also sent a defamation notice of Rs 1,000 crore to Baba Ramdev. Also, the IMA has written a letter to PM Modi regarding his action.

Ramdev viral video: 'Brother and father are just busy in arresting Opposition …' Mahua Moitra's stance on Ramdev's viral video
Video of Baba is going viral
Another controversial video has surfaced in which yoga gurus react to the ongoing 'arrest Ramdev' trend on social media, saying that no one can arrest them. After being told about the 'Arrest Ramdev' trend, the yoga guru is heard saying in the video that 'Arrest can not even father him to Swami Ramdev.'

Allopathy vs Ramdev: IMA said – fake statements Ramdev is giving for selling coronil
Indicating that these trends are not considered to be taken seriously, he said, '(They) are making a noise that arrest Ramdev. Sometimes they run, sometimes they say thugs Ramdev, sometimes Mahathg Ramdev, sometimes Ramdev is arrested. Keep driving, let them run. '
An allopathic doctor from Dehradun said that the latest video of the yoga guru showed that he is not at all embarrassed after making 'insensitive' remarks about allopathy and allopathic doctors. He said, 'Ramdev's statement is full of arrogance. It shows that he considers himself above the law. '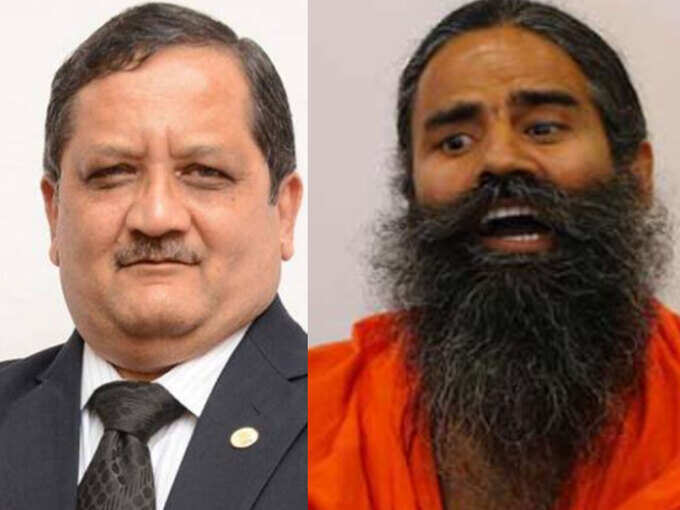 Dr. Jayesh Lele and Baba Ramdev (File photo)
#baba #ramdev #ima #controversy #latest #complaint #filed #baba #ramdev #delhi #IMA #filed #complaint #baba #ramdev #delhi