auto started running without driver: Auto Viral Video : auto started running without driver in shivpuri, people ran behind to catch, watch video : auto started running without driver, people ran behind to catch, watch video
Highlights
Video of MP's Shivpuri district viral on social media
Auto running without driver in viral video
Auto was overturned uncontrollably, ran after straightening
The people present there made the video, now viral on social media
Shivpuri
A video of an auto from Shivpuri district of MP is viral on social media. In the viral video, an auto started running without a driver. Meanwhile, there is a stir on the road. For the first time, people saw autos running without a driver in the city. Its video is now viral on social media. This video is from Madhav Chowk of Shivpuri city.
In the video you can see that an auto rickshaw overturns. Some people take it together. After that he starts running on his own. During this, the people passing by the road do not understand anything. Seeing the auto coming in an unbridled manner, people changed the way. After going some distance ahead the auto again overturned and stopped.

MP News: The victim of depression was going to commit suicide, the train was about to pass over her when the driver of the auto came as an angel
Actually, a moving auto rickshaw has overturned at Madhav Chowk, the heart of Shivpuri city. The auto driver picked up the overturned auto rickshaw, then its engine was started and the auto rickshaw started running without a driver as soon as it got up. Seeing the auto rickshaw running, people started running back and forth to catch it. But the auto did not come in the hands of the people and went and overturned on its own.

REET News: Special arrangements for women candidates in Kota, these 18 auto women drivers will reach the REET exam center
Thankfully no one was hurt due to the auto. There was not much crowd on the road at that time. This area is one of the busiest areas of the city. If there was a collision with a vehicle or person coming from the front, then a big accident could have happened. But after driving some distance, the auto itself took a U turn and overturned.

Rickshaw home, studying on the road… CM showed sensitivity after seeing pictures, got admission in English school, got a house too
When the rickshaw started running on its own, the auto rickshaw driver started running with him to stop it and the auto rickshaw driver could not stop the auto rickshaw going ahead and fell himself, the auto rickshaw stopped due to some other vehicle, the best thing was that There were no casualties in this.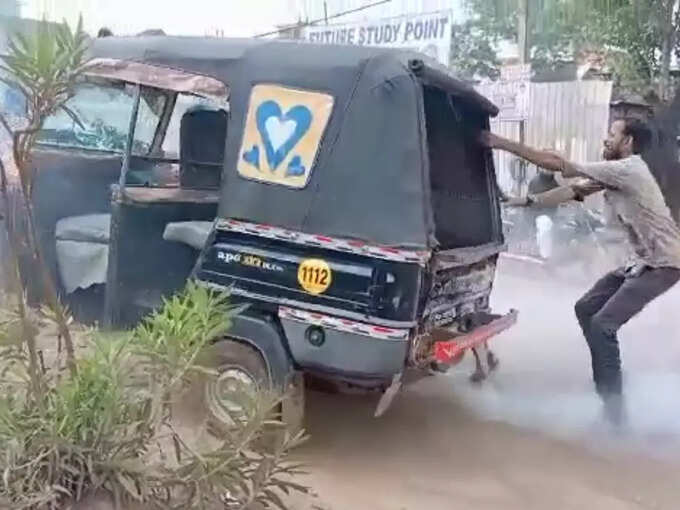 #auto #started #running #driver #Auto #Viral #Video #auto #started #running #driver #shivpuri #people #ran #catch #watch #video #auto #started #running #driver #people #ran #catch #watch #video