Australian Cricket Team Celebrates T20 World Cup Win By Drinking Beer In Shoes, Twitter Can't Keep Calm
Highlights
Australia captured the T20 World Cup trophy for the first time
Won the title by defeating New Zealand by 8 wickets in the final
Aussie team celebrated fiercely in dressing form, beer party took place
Players were seen drinking beer filled with shoes, people are surprised to see the video
New Delhi/Dubai
The Australian team has become the champion even in the shortest format of cricket. In the final match on Sunday, the Kangaroos defeated New Zealand by eight wickets. The celebration of the World Cup victory was also wonderful. Cricket Australia and ICC have shared a lot of videos. The video of the ICC's celebration inside the dressing room of the Australian team is viral. Because, in this, the players are celebrating in a unique way. Players were seen drinking beer filled with shoes. Now people on Twitter are asking 'Who celebrates like this, brother?'
'Chee.. Chee.. What kind of celebration is this'
Be it Marcus Stoinis or Matthew Wade or Captain Aaron Finch… the players of the Kangaroo team filled beer in their shoes and drank with enthusiasm. Now people are saying that this method of celebration is very 'inane'. One user has written that 'What a celebration this is… they are drinking in such shoes, they have played for 5 hours wearing it.' Tagging the ICC's Twitter handle, many have asked which player does this shoe belong to? new or old?
Many users wrote that they have seen such a celebration for the first time. Pakistani users also did not like this method of celebration at all. Some users said that it is a custom called 'Shui' which Australians follow on happy occasions.
Whoever won the toss became the boss, the script of New Zealand's defeat was written as soon as the final started
Proud to be the first Australian team to win T20 trophy: Finch
Finch said his team is very proud to be the first Australian team to win the trophy in the shortest format of the game. In a post-match presentation, Finch said: "It's a big deal, we're very proud to be the first Australian team to be able to do that." We had some great individual performances. Our entire team did a great job. Captain Kane Williamson, who lost the final of the T20 World Cup after the ODI, said that Australia are a great team and they did not give us any chance at all.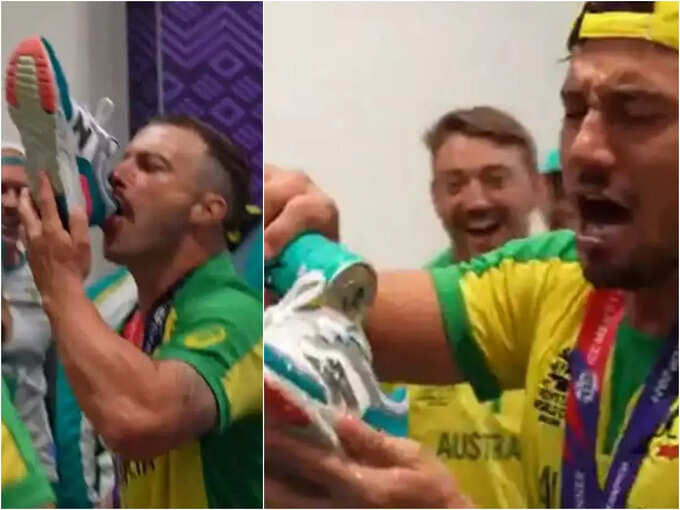 Great celebration in the dressing room
#Australian #Cricket #Team #Celebrates #T20 #World #Cup #Win #Drinking #Beer #Shoes #Twitter #Calm