assam and mizoram border dispute: know everything about assam and mizoram border dispute
Highlights
6 policemen killed in firing and stone pelting along Assam and Mizoram border
Assam and Mizoram chief ministers clashed on Twitter over violence
The issue of border dispute between Assam and Mizoram is going on since 1972.
Guwahati
The 49-year-old border dispute between Assam and Mizoram took a fierce turn on Monday. There was a fierce clash between the security forces and civilians on the border of both the states. Assam Chief Minister Himanta Biswa Sarma said that six Assam Police personnel were killed in firing by miscreants from neighboring Mizoram. At the same time, a senior Assam Police official said that at least 50 policemen, including Cachar SP Nimbalkar Vaibhav Chandrakant, were injured in the firing and stone pelting. Mizoram Chief Minister Zoramthanga and Himanta Biswa Sarma clashed with each other on Twitter over this issue. Let us tell you what is the reason for the border dispute between Assam and Mizoram and since when it is going on –
Assam's Lushai area was made Mizoram
Mizoram came into existence as a Union Territory in the year 1972 and then as a State in the year 1987. Since then Mizoram has a border dispute with Assam. Earlier, the area which was known as Lushai Hills in Cachar district of Assam was given the status of Mizoram. The Lushai Hills and Manipur were demarcated through the notification of the year 1933. Mizoram believes that this demarcation should be based on the notification of the year 1875. Mizo leaders say that in the year 1933, the Mizo society was not consulted. So they are against this notification. On the other hand, the Government of Assam follows the notification of 1933.

Assam mizoram dispute: 6 Assam policemen killed, 50 injured in border dispute with Mizoram
Assam occupied our 509 square miles: Mizoram
The 164.6 km long inter-state border demarcates Mizoram and Assam. Three districts of Mizoram, Aizawl, Mamit and Kolasib share their borders with three districts of Assam namely Karimganj, Cachar and Hailakandi. Mizoram claims that its area of ​​about 509 square miles is occupied by Assam.
Border disputes in 4 states through ILP system
According to several media reports, the Inner Line Permit (ILP) system is also a major cause of at least four state border disputes with Assam. Inner Line Permit system is in force in Arunachal Pradesh, Nagaland, Mizoram and Manipur. Without this, no person from outside can reach these states. Apart from this, he can stay there only for the period mentioned in the permit, but the people of those states can move in Assam without any restriction.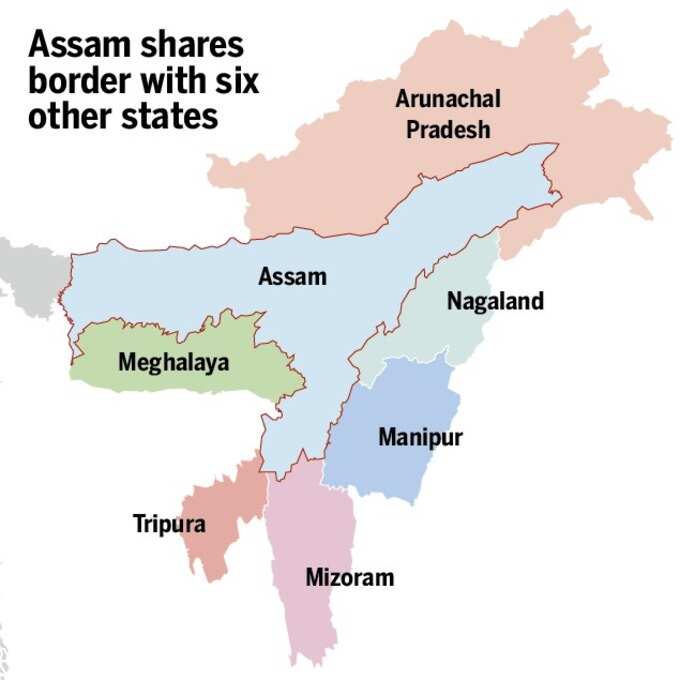 The spark flared up on July 10, this was the case
On July 10, the issue of border dispute flared up when the Assam Police launched an operation to remove alleged encroachments on its land. When the Assam government team went to the spot, it was attacked by unknown people with an IED. Tension prevailed as eight farmers' huts were torched by unidentified miscreants on the Mizoram-Assam border. At least eight huts near the Aitlang river in the disputed area were torched at 11.30 pm on Sunday, Mizoram IG (Northern Range) Lalbiakthanga Khiyangte said. There was no one in these huts.

Assam mizoram dispute: Firing on Assam-Mizoram border, CM of both states face to face… Amit Shah intervened
Tension continues on Mizoram-Assam border since June
The IG said that this hut belonged to the farmers of Vairengte, a border village near Assam. Khiangte said that on the complaint of the hut owners, a case has been registered at Wairangte police station and investigation is on. Earlier, tensions have been brewing along the Mizoram-Assam border since June, when the Assam Police allegedly took control of the Aitlang Hanar area, about five kilometers from Wairangte, and accused the neighboring state of encroaching on its border.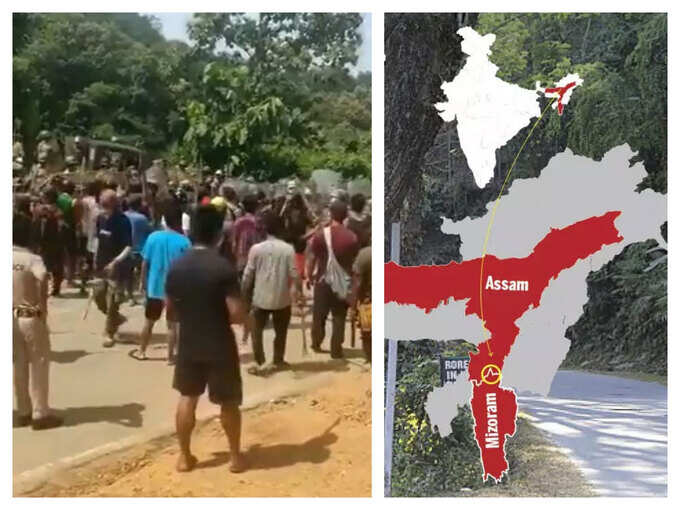 Border dispute erupts in Assam and Mizoram
#assam #mizoram #border #dispute #assam #mizoram #border #dispute