akhilesh yadav wishes ramnavami on mahanavami: akhilesh yadav and anand sharma wish happy ram navami on mahanavami get trolled
New Delhi
On the last day of Shardiya Navratri i.e. Mahanavami, former UP Chief Minister Akhilesh Yadav sat congratulating Ram Navami. Senior Congress leader Anand Sharma also made the same mistake on Twitter. However, after realizing the mistake after trolling, Akhilesh deleted the old tweet and tweeted a new one, congratulating Mahanavami.
Akhilesh Yadav tweeted, 'Wishing you and your family a very Happy Ram Navami!' Akhilesh had to delete the tweet when people started trolling him for this mistake. The Samajwadi Party chief again corrected the mistake and made a new tweet, but by then people had taken the screenshot of his previous tweet and continued to surround him on the new tweet.
Somebody asked – why did the Sultan wipe out the first, while someone made fun of Akhilesh's 'knowledge' about Hinduism.
Similarly, people are surrounding him on the tweet of Anand Sharma. Some are teasing them by saying Eid Mubarak and some are congratulating them on Christmas.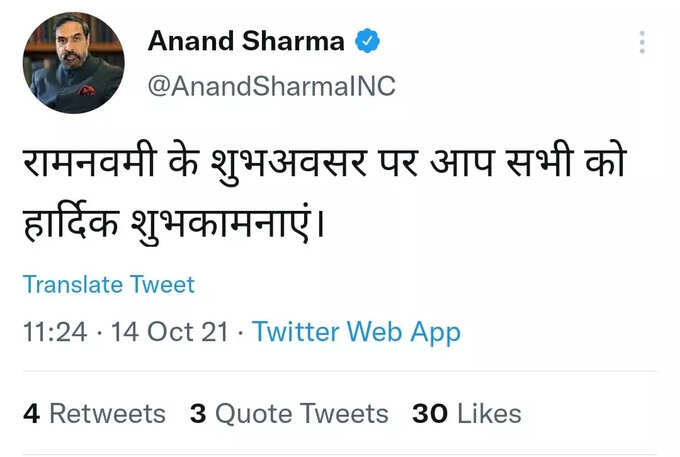 A Youth Congress leader from Hisar in Haryana also made a similar mistake. The name Krishna Satrod has wished Ram Navami with the poster of Lord Rama.
Actually, Ramnavami falls in Chaitra Navratri. Navami in Shardiya Navratri is called Mahanavami and Goddess Siddhidatri is worshiped on that day.
#akhilesh #yadav #wishes #ramnavami #mahanavami #akhilesh #yadav #anand #sharma #happy #ram #navami #mahanavami #trolled