Akhilesh Yadav tweet on purvanchal expressway: SP Akhilesh Yadav targeted CM Yogi Adityanath
Highlights
War intensifies between SP and BJP over Purvanchal Expressway
SP supremo and former chief minister Akhilesh Yadav taunted by tweeting the video
Targeted CM Yogi by tweeting 6 second video
Lucknow
The war of words between Uttar Pradesh's main opposition party Samajwadi Party and the ruling Bharatiya Janata Party (BJP) over the Purvanchal Expressway from Lucknow to Ghazipur is not stopping. SP supremo and former chief minister Akhilesh Yadav took a jibe on Tuesday. He attacked by tweeting that the lace came from Lucknow and the scissors came from New Delhi. In the evening, while tweeting a 6-second video, targeted CM Yogi.
When PM Modi's Super Hercules plane landed on Purvanchal Expressway
Akhilesh Yadav tweeted and wrote that 'You have given us a good stitch of hospitality.. You have made us 'walk' before the public. In the last line, he wrote without taking the name of CM Yogi and wrote that we passed through these roads with great helplessness.
SP leaders opened Purvanchal Expressway even before PM
What's in the video?
Actually, the video tweeted by Akhilesh is of 6 seconds. The video is of Purvanchal Expressway, in which Prime Minister Narendra Modi is sitting in his car and is surrounded by his security guards. At the same time, Uttar Pradesh Chief Minister Yogi Adityanath is seen walking towards his car just behind him. SP chief Akhilesh Yadav has taken a jibe at CM Yogi for walking and sitting in the car in front of PM Modi.
Amazing and unimaginable….when commandos landed from Airforce plane on Purvanchal Expressway
PM Modi targeted Akhilesh
At the same time, after the inauguration of Purvanchal Express in Uttar Pradesh, PM Narendra Modi targeted Akhilesh Yadav in gestures. He said that in 2014, when his government was at the center, the previous UP government did not support him. Were afraid to share the stage with him in UP as he was in danger of affecting his vote bank.
Akhilesh wanted to make Purvanchal Expressway world class, had told in an interview 3 years ago his complete 'dream'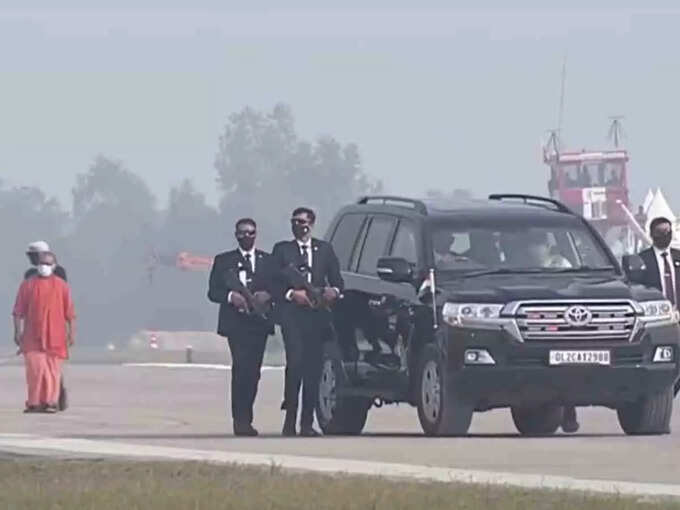 Image taken from Akhilesh's video tweet.
#Akhilesh #Yadav #tweet #purvanchal #expressway #Akhilesh #Yadav #targeted #Yogi #Adityanath