Afghan Women Post Their Photos On Social Media In Fashionable Afghan Clothes Protesting Against Taliban New Dress Code
Highlights
Afghan women start campaign on social media against new dress code of Taliban
Beautiful pictures posed by Afghan women in traditional, fashionable and colorful Afghan clothes
Women posted fashionable pictures on social media against the harsh regime of Taliban
Kabul
'When oppression crosses its limits, rebellion is born and fear ends', in history we will find many examples that confirm this statement, whether it is Gaddafi or Saddam Hussein. Something similar is being seen in Afghanistan, where women have started a campaign against the new dress code of the Taliban. Afghan women are condemning Talibani clothing for schoolgirls and their biggest weapon in this is the internet. These women are sharing pictures of colorful traditional wear on social media and using hashtags like #DoNotTouchMyClothes, #AfghanistanCulture.
Hundreds of Afghan women associated with the campaign
The campaign was started by Bahar Jalali, a former professor at American University in Afghanistan. Now hundreds of Afghan women are joining it in their support and sharing their photos and posts on social media protesting Taliban laws. The Taliban's new higher education minister announced on Sunday that women would be allowed to attend universities in Afghanistan. But for this they have to follow the rules of isolation from men and Islamic dress code.
Campaign launched to eradicate misinformation
Women students dressed in black were photographed waving Taliban flags at a government university in Kabul on Saturday. According to Jalali, the aim of his campaign is to provide correct information and educate against the misinformation being spread by the Taliban. Jalali said that till date no woman in Afghanistan has ever worn such clothes. It is completely foreign and foreign to Afghan culture.
women wear traditional clothes
"I have posted my picture in traditional Afghan dress to spread correct information and educate against the misinformation being spread towards the Taliban," he said. Jalali also posted her photo in a green outfit, writing, 'This is Afghan culture. I am wearing a traditional Afghan dress. Other Afghan women reacted against the Taliban-mandated black hijab by sharing photos of themselves in colorful traditional attire from across the country.
'Afghan women dress like this'
Tehmina Aziz tweeted, 'I proudly wear my traditional Afghan dress. It's colorful and beautiful not the pictures you saw yesterday. Thank you Bahar Jalali for encouraging us to share the beauty of Afghan culture. Waslat Hasrat-Nazimi, the head of the Afghan service to DW News, also shared a picture of herself wearing an Afghan outfit and a headdress. He wrote, 'This is Afghan culture and Afghan women wear similar clothes.'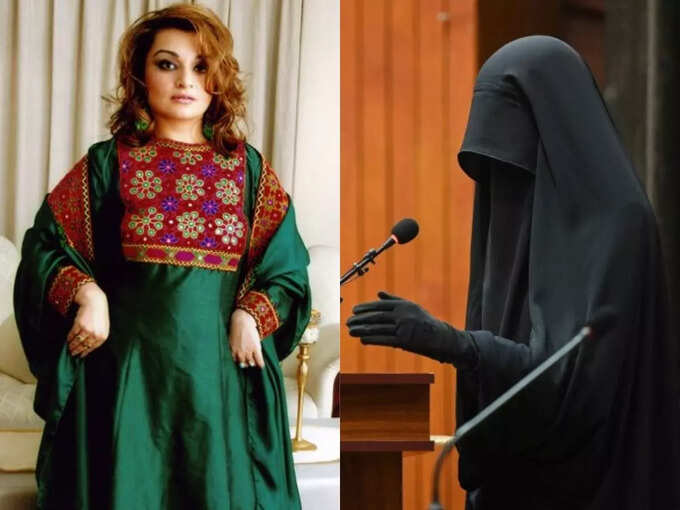 Afghan Women's Campaign (Photo Credits: Twitter)
#Afghan #Women #Post #Photos #Social #Media #Fashionable #Afghan #Clothes #Protesting #Taliban #Dress #Code